Most of the painting is finished on the various Reaper dogs last seen a few weeks ago, and they've painted up so nicely I'm going to show them off before they're entirely finished, which I do not usually do.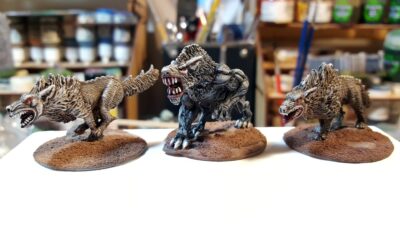 The Moorhound got a black basecoat; the other four got a dark brown basecoat. No particular reason, honestly. Most of the texture was brought out by simple drybrushing in a variety of off-white shades, then some highlights all the way up to pure white, and some selective shading with washes. I pushed the contrast more than I usually do and I think it works really well for these otherwordly demon-dogs.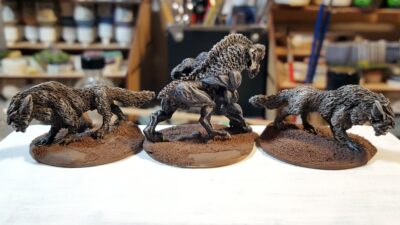 The bases all five dogs are on are 40mm rounds built up from sheet styrene and putty; I'll get flock and tufts on them in the next couple of days. Then I need to figure out stats for these in Pulp Alley 2nd Edition and unleash them upon our tables!