Back in the long-lost days of mid-2009 (OK, four years back…) a contest called "Build Something" was held over on the excellent Lead Adventure Forum, with the contest theme of "Transportation". I decided to build a small motor yacht/large powerboat sort of boat for pulp gaming, taking inspiration from and got as far as cutting the base of the hull, the cabin walls and the sides of the stern out of styrene plastic before inspiration fled and I moved on to other projects.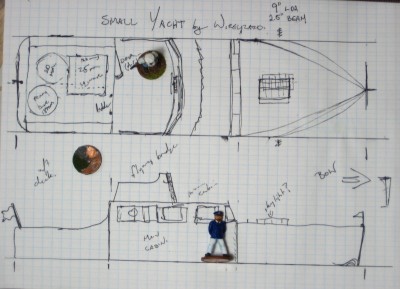 Lots of other projects, in the intervening years, but I never actually threw out the barely-started boat, it just gathered dust and got used as an impromptu container for scrap wood and other bits. Late last week I finally got around to cleaning up my long-neglected hobby bench, didn't feel like painting, and decided to dust off the motor yacht instead of starting an entirely new project. I still have a large amount of styrene plastic (plastic card) hanging around, so it was still the material of choice for this project.
I've added frames to the bow and a deck, then added a removable roof to the cabin and a flying bridge on top of that.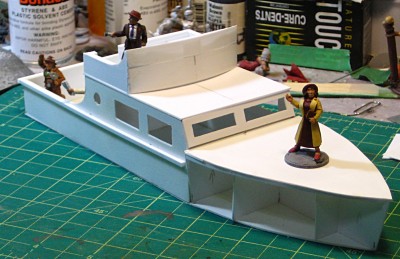 The hull sides will be the next big step. I'm planning on doing each side with a single long strip of styrene, and then use putty up at the bow to properly form the actual point of the bow.
After that there's still a lot of detail work and cleanup to do. Door and window frames, a ladder up to the flying bridge, and a lot of putty to smooth things out and hide seams.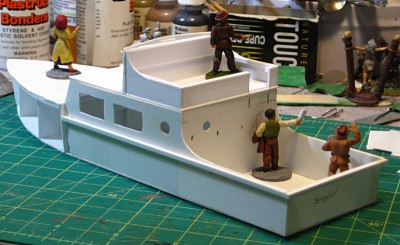 This last photo shows the curves in the aft end of the boat quite nicely. I'm going to use steel wire for railings on the sides and back of the flying bridge, and might put a removable canopy over the rear deck. Also need to come up with a name, to be painted across the stern in large gold letters!