So I've been persuaded (OK, it didn't take much…) to get into Infinity, the fast and lethal science fiction skirmish game from Corvus Belli. I've been vaguely interested in Infinity for years, both by the high quality sculpting and because of the background and basic look of the game with it's obvious influence from awesome sources like Ghost in the Shell, Bladerunner, cyberpunk, and a generally "hard science fiction" future – no skullz, no rusty Gothic goofiness, etc!
I've picked up a small Haqqislam force and started painting them up; they're really neat figures that I'll show progress pictures of later.
Being the sort of gamer I am, though, I also immediately started producing bits of terrain for the game. Infinity is a fast lethal game that demands a fairly high density of terrain on the table. Most of our terrain is fairly urban, lots of shiny new lasercut MDF buildings owned by the other players, so I decided to do some mixed scatter terrain to go along with that.
Planters seemed like a good choice – straightforward to build, plausible in an urban environment, a good chance to introduce some greenery and colour to an urban board, and a chance to use up some of my stockpile of scrap and offcut mounting board leftover from older, larger projects.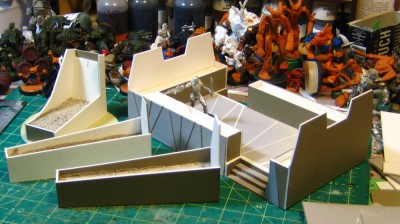 The largest piece is 6″ wide and 3.5″ across, mostly because that's the size of a scrap of foamcore in my leftovers bin. The four smaller planters are 4″ long and 1″ across at the wide end. The small piece at the end is based on a 3″ circle of mounting board I cut as an experiment — yes, my circle cutter will cut mounting board. But not happily…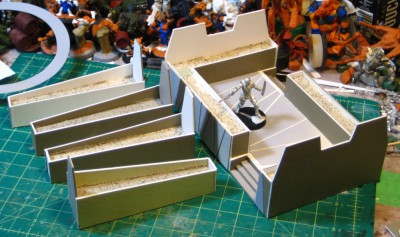 I'll probably do another two or three of the long narrow planters, and then start exploring other shapes.
I did have to get into my uncut stockpile of large mounting board sheets for the end plates on the large raised piece, but basically everything else is from offcuts – total material cost so far about as close to zero as you can get!
I'll get these painted this weekend, then break out the greenery to fill them in.