Brian and I (plus friends) attended Trumpeter Salute 2023 last weekend. No, not the UK one, the smaller one in Vancouver, Canada. We all had a great deal of fun, our first major miniatures convention since 2019 – after Bottos Con, which is primarily a board game convention, in Nov of last year.
Brian already wrote up a post as well, but no photos yet there.
Under Alien Suns (working title) – Coop scifi rules under heavy development
Friday afternoon in the first slot I ran another public beta test of my under development coop scifi skirmish ruleset, Under Alien Suns (the working title). It was a great deal of fun, autonomous vehicles got used as weapons, and there were many laughs. Also lots of great feedback.
Players were fighting in New Antares – against a mixed enemy – zombies from the former townsfolk & Halite Confederation soldiers
Vikings vs Saxons – Aftermath of the Raid
There were a pair of linked games both using Ravensfeast (a free online ruleset)- one of a Viking raid and then a 2nd of the Vikings attempted to get their stolen booty home. I missed the first game, but caught the second one. Also a chance to try out my new camera – a Canon RP with my older 60mm macro lens!
It ended up being a minor Viking victory, as they got the major loot (the laden donkey) off the table, and took down both my lord and the local bishop with his
Gaslands pickup game – Death Race!
As we were late getting back to the main hall after dinner on Saturday, we ended up running the first of a pair of pickup Gaslands games. This death race ended up with the leaders taking each other out and the person in last place at the start claiming victory.
But the most glorious moment was the double jump – jump, slide, spin, jump again. Amazing to watch
Operation Sea Lion – Bolt Action
Sunday is one big slot, but we ended up having time to play a pair of games. First up, a four-table Operation Sea Lion, the start of a larger Bolt Action Campaign. On our table, it is a very minor German victory, as we cheeseweasled some troops off at the end.
It all started badly, however, as the Brits took out 1/3 of our force on turn 1 and we failed our prepatory bombardment roll. But our crowning glory was storming the ruined house held only by Dad's Army types, who inflicted huge casualties, but we did more.
One last Gaslands game – Flag Tag
We had one last Gaslands game – Flag Tag. Team red vs the other colours, which also happened to be the younger players, including a friend's son, against the older players (Brian, Martin and Tony).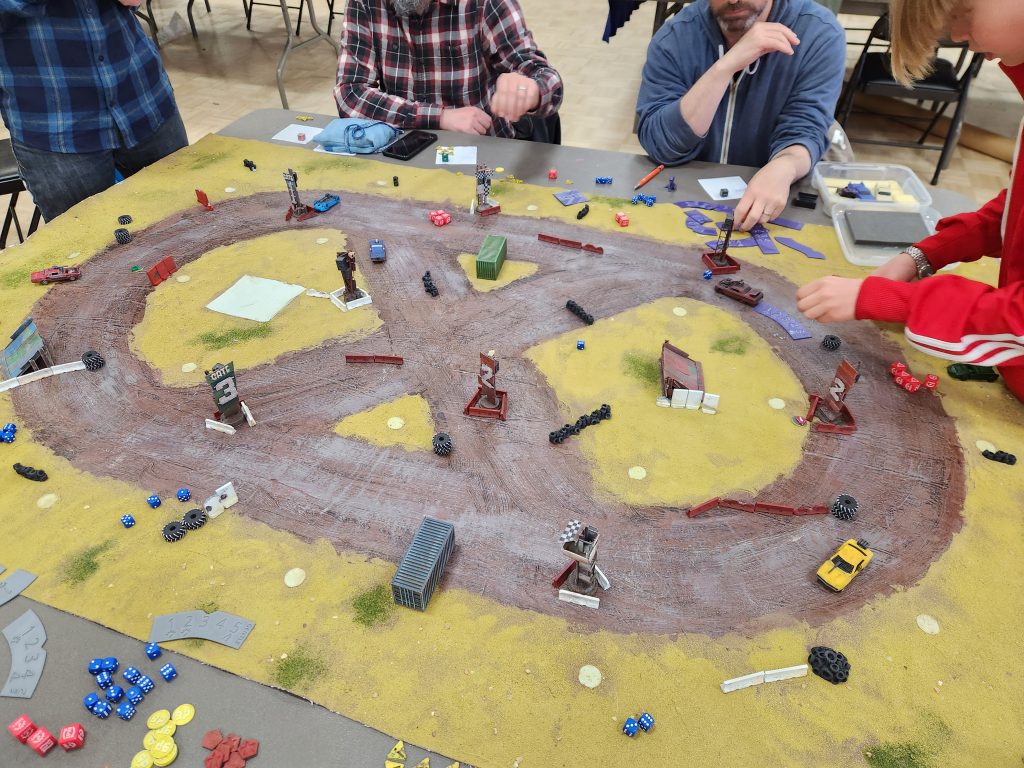 All in all, twas fun but you never get enough photos. I did also have a participatory art project this year – I asked players to graffiti my buildings for my scifi terrain. Photos of those shortly and thanks to all that participated, I got some great stuff.
Til next year!
Update! Martin has uploaded his photos to flickr – he played many of the same games as Brian and I and even has shots of Brian's boat game – something apparently Brian himself failed to get