As mentioned last weekend after our game of Narrow Seas, we also wanted to try out Coastal Patrol, available in the Summer 2011 Special from TooFatLardies.
I managed not to take a single photo during either of the two games Corey and I ran today, but nothing about the visible setup we've got has changed in a week except that all my 1:1200 scale boats are properly based, on 20mm wide by 40mm long by 1.5mm high clear acrylic bases ordered from Litko.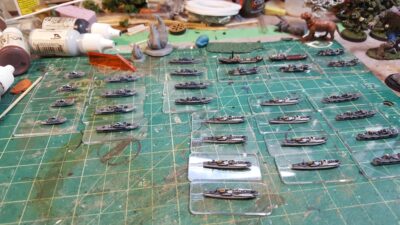 The first game we ran was very small, a pair of Royal Navy Fairmile D MGBs (Motor Gun Boats) escorting a coastal freighter, under attack by a pair of S-38 mid-war Schnellboote. The S-boats roared in, fired all four of their ready torpedoes at the freighter while taking scattered gunfire from the MGBs, blew up the freighter, and roared off. As they were exiting the board one of the pursuing MGBs ran head-on into a stray mine (Coastal Patrol has a random events table that can be pretty lethally random!) and was blown out of the water.
For the second game we gave the Germans a convoy to escort, a freighter and a tanker somewhere along the coast of France early in the war. They had an armed trawler and two Raumsboote (R-Boats) escorting and were under attack by a quartet of tiny, lightly armed Vosper 73′ MTBs. This game ended in an absolute draw, as nobody lost any ships, although part of this was because we were messing with the Coastal Patrol torpedo rules and concluded that we'd taken them from massively powerful (any vessel struck by a torpedo is considered sunk automatically) down to nowhere near powerful enough because although the trawler and the freighter got hit neither took any serious damage. The Vospers all roared off into the night again, although one of them was taking on water quite badly, pumps just barely keeping up.
For both games we were (just like last weekend's Coastal Patrol games) ignoring the rules for spotting, target ID, blinds/dummy markers, and all that stuff. I'll be making some blinds and markers before our next games (of either system) so we can incorporate those rules, which are sure to change the on-table dynamic again.
Narrow Seas vs Coastal Patrol
So, compared to Narrow Seas, what are the rough similarities and differences? CP uses a TFL-style actions-per-activation system, with vessels getting between zero and three actions (diced for) every time their card comes up in the activation deck. This leads to some tense decision making, which I like. Do you maneuver your ship, run damage control, or fire, and at who?
One thing we definitely liked about CP vs NS is that CP's turning circles are considerably smaller than the NS turning arcs. This makes the vessels feel more agile, and increases the effective size of the table.
CP's firing is much simpler than the NS system, and involves much less dice rolling. We did seem to miss a lot more with CP than with NS, though, which isn't really unrealistic with small vessels moving quickly over the water!
There are definitely a few rough spots and gaps in the Coastal Patrol rules. Some of the game mechanics don't seem to be fully explained (damage from collision/ramming, for example) and although Making Smoke is an available order and Smoke Generators are listed as shipboard equipment on some of the damage tables, there are not in fact any rules for how smoke is intended to work… That said, there is a file of Coastal Patrol house rules out there that fill most of the gaps easily enough, but which I can't currently find online to provide a link to!
We will be coming back to Coastal Patrol, and might stick with it as our main coastal naval rules, but we'll have at least one more bash at Narrow Seas as there are definitely some things it does better than Coastal Patrol.