… and over at my place, I was hiding out, enjoying the last evening of solitary, productive peace and quiet I"ll have for a while, as the holiday season proper lands on us tomorrow.
In between beer, sending out festive email, and a little bit of painting on some White Russian troops, I cranked out this: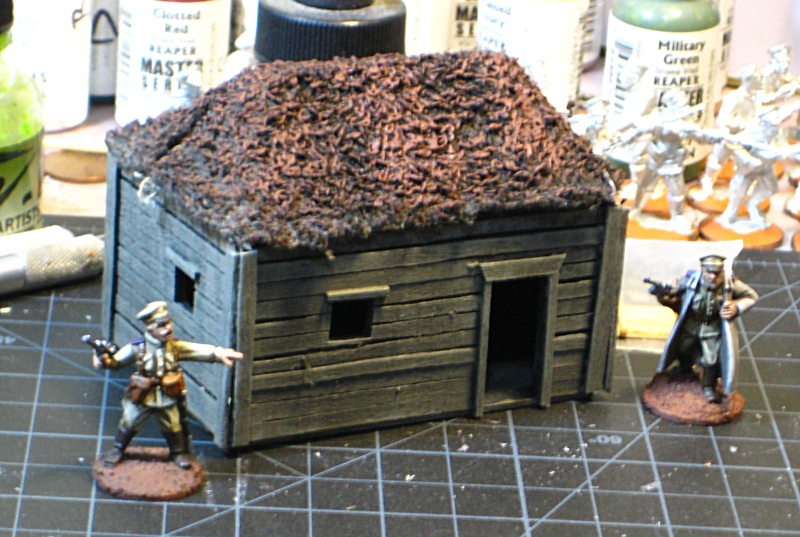 It's tiny, only 2″ x 3″ – but I've always liked the philosophy of making your buildings a bit smaller but having more of them. A hamlet of four or six buildings looks more convincing as a hamlet than a pair of buildings taking up the same space on the wargaming table.
Construction is almost all mattboard, with the siding created from thin wooden coffee stir sticks split lengthwise. The roof is towel over a mattboard framework, and removable. There's a door to glue into place as well.
The roof needs a lot more painting, which it might get on Boxing Day or else in the New Year, but I'm fairly happy with the greyish tone of the walls at this point. I might wind up rebuilding the roof, as I got a bit too enthusiastic with the scissors and haven't left much in the way of eves over the walls. The simplest fix for that might just be to slap another layer of towel down over the existing one.
This little building was mostly a test of the wood siding idea, and of building the hipped roofs so typical of rural buildings in early 20th C Russia (and elsewhere, of course). They're fussier, but this one works and so does the woodwork, so the new year should see a nice little Russian hamlet taking shape here.
Hope everyone has an excellent holiday season, however you celebrate it, Merry Christmas, Happy New Year, and such!