I've been calling my Infinity space station table project a space station since I started planning it, but really it's been a collection of big walls and random bits until recently. What does a space station really need to make it feel like a space station? How about some actual space craft?
To that end I hit the excellent Genet Models site and grabbed a bunch of the free papercraft scenery PDFs there. Genet is Christopher Roe's site; he used to sell his PDFs under the Ebbles Miniatures and then Genet names but these days he gives them away for free!
First I printed and built the basic Utility Shuttle in red. There's a lot of grey and white on my space station table, I wanted something solidly colourful! The Utility Shuttle is only five parts – nose, body, tail, two wings – and quite straightforward to put together. The only issue I had with it was the central body piece was kind of loose and floppy to put together. I'd printed everything on 65lbs light card; it might have been easier to put together with heavier 90 or 100lbs card. Once it's assembled it's all solid, though. I left off the landing skids that are supposed to elevate the shuttle off the ground, to make it more obviously a Line of Sight blocker during Infinity games.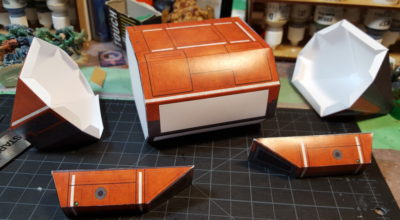 To cover the white strip that the landing skids are supposed to be glued to, I cut part of each landing skid up and glued it straight over the strip.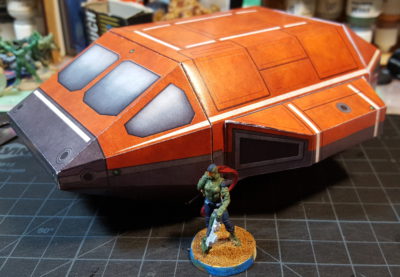 The second build is the VU-22 Percheron, a light shuttle/dropship. It's only available in military colours, although there's really nothing obviously military in it's lines. I might try re-colouring the white/black prototype version to get some civvie colours going, but for now I printed off the tan/sand coloured standard version.
This is a more complex build with about 20 parts, some of them smaller and somewhat complex, but I actually found this an easier build overall than the Utility Shuttle. It's a more recent design than the Utility and better engineered, with some internal bracing on potentially floppy and troublesome parts to assist with assembling. It's about the same size, roughly, as the Utility Shuttle (I'll post a group shot soon, don't have one currently) but more complex, more interesting, and with better proportions than the chunky, simple Utility Shuttle design. I didn't watch much of the new Battlestar Galactica TV show when it was on the air a few years ago, but a friend pointed out the Raptor inspiration for the Percheron.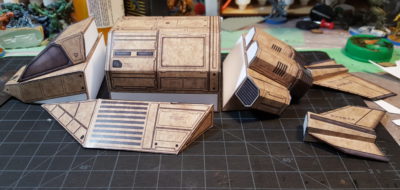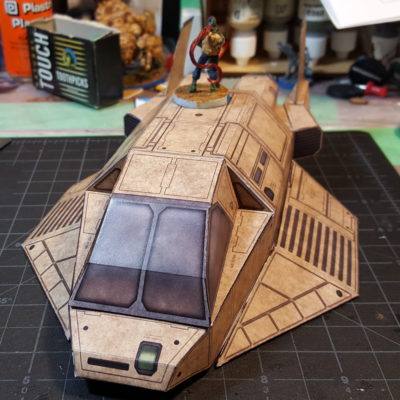 Most of the Percheron's parts count is actually in the back end engine and tail assembly. The engine cones and tail pieces are a bit fiddly to assemble but look great when done.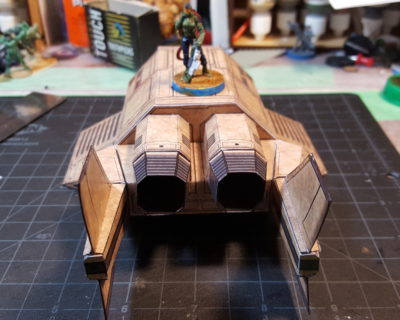 There don't seem to be that many generic papercraft shuttles, dropships, or other wargaming-scaled spaceships available, so it's awesome that Genet is making their PDFs available for free. There's a bunch more spacecraft available there, including the massive VT-3 Pinzgauer cargo shuttle, that I might yet build up to decorate Infinity tables with, as well as some smaller details like cargo-handling exoskeletons and such that would make great looking "dockside" clutter around the docks and hangar bays of a space station. I'll almost certainly be building up more Genet Models cardstock kits in the future!