The Lead Adventure Forum runs a great painting contest about once a year called the Lead Painter's League. I've participated before but not for a number of years now, but when LPL11 was announced a while ago I decided to get back at it and enter.
LPL was originally conceived as a way to help participants clear their stockpiles and lead mountains of figures, so the requirements for small groups of figures – the minimum entry has to be five figures – and relatively loose theme allow you to paint whatever you feel like. There's bonus rounds with slightly more specific themes on the first, fifth, and tenth round but they're intentionally loose as well. This year's bonus themes are Tribes for Round One, Ship's Crew for Round Five, and Big Brother/Little Brother for Round 10.
I was able to get ten rounds worth of figures together, including satisfying all three bonus rounds, just from my stockpile of figures, in classic LPL style!
For Round One, Tribes, I used a family group of cavemen (cavepersons?) that Bob Murch of Pulp Figures sculpted. There's a grizzled old shaman, an older woman, a young mother with baby on her hip, a teenage boy, and a younger child. I think they're some of Bob's older sculpts and it looks like he's taken them out of circulation at the moment – which means we might see resculpts sometime soon!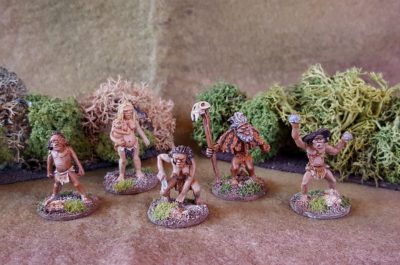 I'll be posting my LPL11 entries here after each round is finished; Round Two is currently running and you can find the entire LPL11 sub-forum over here on LAF!