As I mentioned in my last post about the things I brought home from Trumpeter Salute, one of them was a copy of Issue #87 of Wargames, Soldiers, and Strategy, their ECW special. One of the articles in there was by Tony Harwood, also known as Dampfpanzerwagon around the internet, including on the Lead Adventure Forum.
Wanting more buildings suitable for an English Civil War game (and possibly for early 20th C pulp games set in the English countryside!) I decided to build my own version of Tony's dovecote. It's a great building for wargaming, having a minimal footprint but nice presence because of it's height.
My version of Tony's dovecote has walls 60mm wide and a total footprint, including minimal base, of about 65mm by 65mm. It's 120mm (12cm) to the tops of the walls. I haven't actually measured to the top of the roof, but it's somewhere around 20cm or so total height.
The walls and base are 1/16th" matt board (picture framing card). The stone foundation is thin (about 1/8th" or so) styrofoam insulation, carved with an Xacto blade and pencil. The half-timbering is all wooden coffee stir sticks, most of them split lengthwise to make narrower beams.
The half-timbering took a couple of hours all told, done in bits and pieces in between household chores on a Saturday. Do the big vertical corner beams first, then the horizontals, then the infill verticals or diagonals. The pattern of the half timbering is slightly different on all four walls, which seems pretty typical of this sort of Medieval/Renaissance building!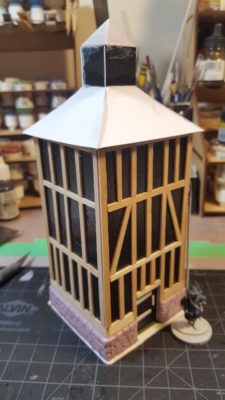 The central "tower" on the roof is more 1/16th matt board, 20mm a side. The sloping pieces of the main roof are lighter card, cut to fit by trial and error. The tower roof is a scrap of styrofoam insulation, cut with a fresh Xacto blade into a four-side pyramid. All eight roof surfaces will get "slate" tiles from medium weight card, and the top of the tower will get some basic detailing from card as well.
For texture in the panels between the timbers, Tony uses air drying clay in his original dovecote. Lacking air drying clay, I'm trying out stippling a fairly heavy coat of white glue over the card. I'll slap some paint over it soon and see how it looks; the white glue I'm using currently dries very glossy which makes it hard to see how much texture I'm actually getting.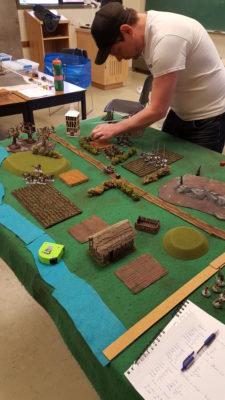 On to roof tiling and paint!