Ordered a few things from the excellent and varied ranges of Bad Squiddo Games back in March; things took longer to get from the UK to here than I'm used to, almost like some major world event is disrupting trans-Atlantic flights or something. However, everything was dispatched from the UK in good time and I am certainly not going to blame Anne of Bad Squiddo or the various postal services involved for a lack of air mail capacity…
I got a fairly mixed bag of stuff. A few ladies that will probably show up mostly as players or civilians in my English Civil War/Weird ECW games, a fine herd of pigs and some farm scenery, a bunch of cats, and some small scenery to add detail here and there, including a whole lot of mushrooms and toadstools for suitably creepy weird fantasy/horror forest bits.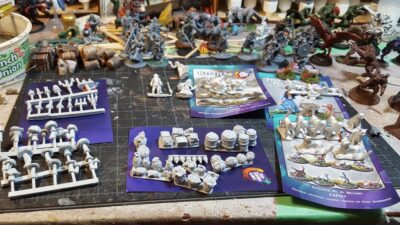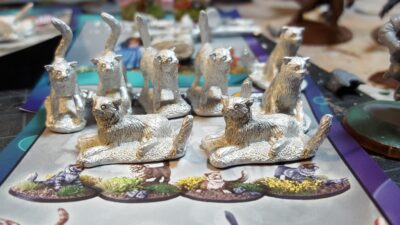 Everything is really cleanly cast and beautifully sculpted. The scenics are mostly by the very talented Ristul and in an interesting slightly flexible grey resin; the white metal sculpts are by a variety of sculptors and all really well done.
Not pictured above is the pigs, my favourite single part of this purchase. I indulged in the Pigtopia bundle deal which got me ten pigs and six bits of pigsty/farm scenery. I've already painted the pigs up, basing them in small groups on 40mm bases.

I painted the pigs up to vaguely resemble one of the oldest heritage breeds of pig in the UK, a black-and-white breed that I now can't find or remember the name of. Anyway, they painted up nicely and I look forward to watching them chase players around the table or be part of someone's provisions on the hoof in a scenario.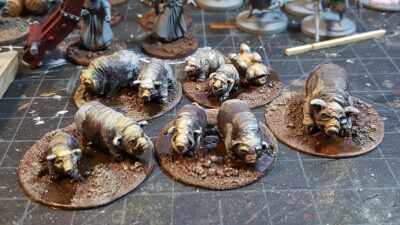 That'll do, pig, that'll do.