Slightly belated Happy New Year to all!
After months of doing absolutely zilch on the gaming front I saw the year out in some style, at least, with a whole bunch of English Civil War 28mm figures pushed through from "almost done" to actually finished in my time off between Christmas and New Years.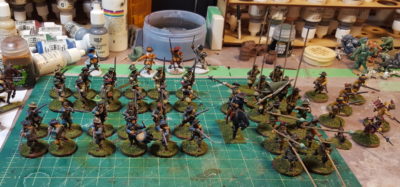 This means that all of the regular soldier figures seen on the workbench back in June are now finished and ready to game with, just the four officer/character figures seen there still to finish off.
The cavalry on the table now include five figures that I "finished" for the Lead Painter's League way, way back in early 2011 (!) that have sat around ever since. I had thought these ECW figures had sat around for four or five years, but apparently it's been more like seven. Yikes. "Finished" is in scare quotes in here because I was never happy with some of the details and finish on the riders, having put most of the effort in the horses. They're back on the painting table for touchups, as are the other seven cavalry figures from that box of 12, and the first six heavy Cuirassiers for extra cavalry punch.

Finally, I pulled out a bunch of farm animals from my Warbases order of early 2017 and cleaned up and based six sheep, two cart horses, and a flock of geese, just for fun and extra flavour in games. They can act as loot markers in Pikeman's Lament, just as scenery, or (especially the geese, geese are evil!) as unique hazards in Pulp Alley games!

Looking forward to a bit more gaming in 2018 than 2017 had to offer, including more Infinity and some games at Trumpeter Salute 2018 in a few months!