These dead might be able to take themselves out, actually.
Basing still to be determined but painting finished on my first fifteen figures of 2022. These are North Star's Oathmark skeletons; the other half of the pack is in Corey's hands for painting and part of the reason the basing is unfinished is I'm waiting to see if we're going to coordinate basing or just do our own thing individually.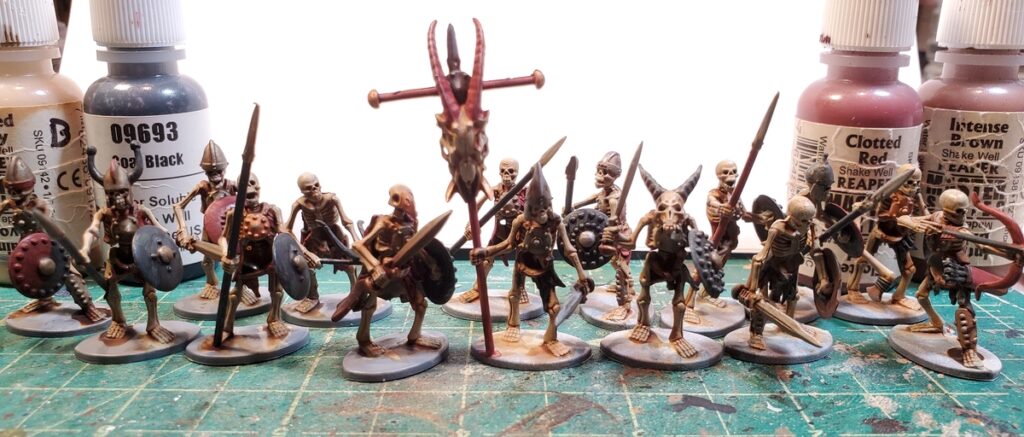 The big skull on their unit banner, and the bird and goat-ish skulls on two of the skeletons, are from GW's Skulls pack, which is probably the most purely GW product GW has ever, it its long and illustrious history, produced. It's also damn useful for kitbashing and scenery building and to date, the only GW product I've ever bought retail that wasn't paint!
The painting was deliberately quick and simple. Grey primer with a white zenithal overspray, Reaper Stained Ivory mixed 1:1 with glaze medium for the base coat, Coal Black and Clotted Red for all the cloth and equipment, Intense Brown for leather strapping, Tarnished Steel or GW Dwarf Bronze for metal bits. After that was all dry, a fairly heavy coat of GW Seraphim Sepia over the whole figure, and then a quick highlight of the bone bits with Stained Ivory again.
This gave me a good looking hoard of dead folk to throw onto the table when we next face a necromancer in Sellswords or other games, and I have some good skeleton bits to throw into the kitbashing bits bin!