It's been a bit quiet around here lately, which is entirely due to the fact that I finally bought a new computer and have spent the last week setting it up and transferring seven years of stuff off my old computer. New monitor and other peripherals with the new computer, and I've realized how bad some of the photos I've published have been, and how burnt-out the old monitor was!
Anyway, I got back to the painting bench finally, and finished the Copplestone 28mm Armstrong-Whitworth Armoured Car for my Russian Civil War forces. It's deliberately generic, able to show up in anyone's service, Red, White or other, and with that in mind I asked over on the Lead Adventure Forum for some good generic Russian names for the beast. One of LAF's resident Russians suggested "Freedom" as a good universal name, and so here we have the armoured car "Freedom", ready for service!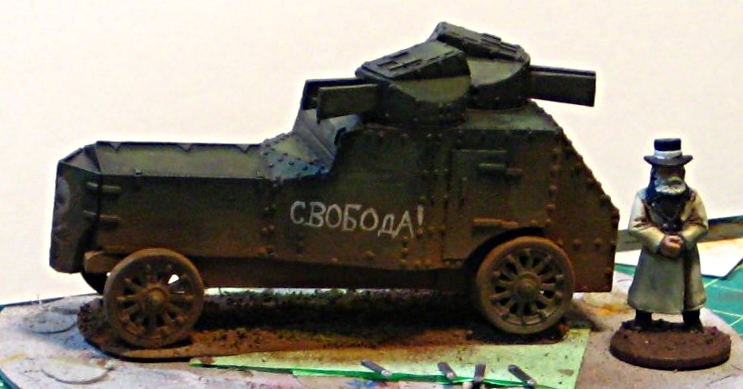 The figure is the same 28mm Brigade Games Russian priest as in other pictures. Here's the front of the vehicle, with the skull & crossbones on the armour protecting the radiator. Random Russian trivia: apparently the skull & crossbones is known as "Adam's head" in Russian. The smaller photo to the right is the base of the armoured car before I glued the car to it. The base is 1mm plastic car with some Milliput ruts and ridges, a bit of sand, paint, then some basic flock. It's cut just big enough to encompass the wheels, designed as a brace for the wheels rather than the sort of base you'd handle the vehicle by. I'm always a fan of minimalist bases, and these thin little "shadow" bases are perfect.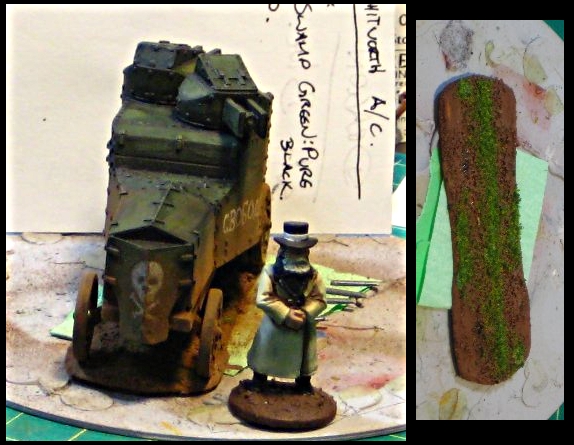 These photos were taken after dark on my painting bench, so they're not the greatest, but I'll try and get some photos in daylight this weekend, after the last few touches are finished on this vehicle and it's had a coat of Dullcoat to protect the pastel dust weathering.