The Eureka tachanka itself (the wagon, that is) comes together fairly easily with a bit of patience and some test fitting. The main body is a single piece, which I had to bend very slightly to straighten as the back end had been pushed very slightly downward during shipping. The rear springs and axle are three simple pieces; the front piece has the bar the horses are harnessed to, then two springs, then a front axle.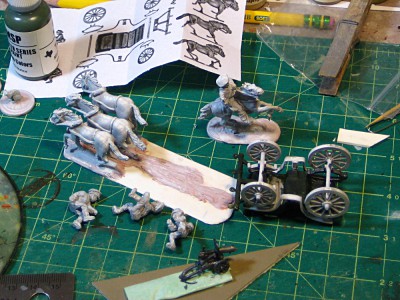 I glued the whole thing together in one shot, wheels and all, and now that I'm painting it I find myself wishing I'd left the wheels off to make the undercarriage slightly easier to paint. On the other hand, getting the fenders on either side into place and symmetrical is easier when you have the wheels already solidly in place for reference, so it's one of those "on the one hand/other hand" sorts of things. I can always slop mud around on the underside to hide any minor painting glitches, after all…
The base the whole thing will sit on is a strip of .040″ styrene plastic card, reinforced with Milliput epoxy putty, especially around the horses' integral bases. I also ran a ridge of putty down the centre of the card base to stiffen it, with some slivers of scrap card under that just to give the putty something to hang on to. The base is just barely big enough to hold the wheels of the tachanka and the horses, but similar minimal "shadow" bases have worked to protect the relatively delicate wheels of other pewter/resin vehicles in my collection for several years now.
The tachanka is getting a dark green basecoat, similar to the paint scheme on the earlier armoured car. I've gone with blue trim, either a remnant of civilian finery (a lot of tachankas were lightly converted civilian carriages) or a bit of regimental pride coming through. I'll leave all three crew in generic Russian khaki so they can be used by either side in my RCW games; I might eventually rig a flag holder somewhere on the thing for it to show off which side it's fighting for today!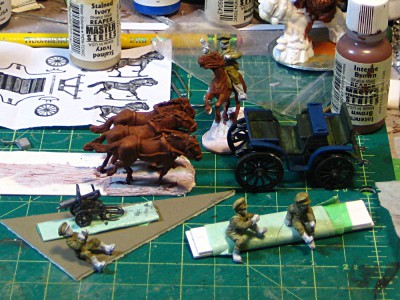 I'm trying to get the tachanka ready for Trumpeter Salute in Vancouver which starts this Friday, so time is pressing and I'm speedpainting like crazy, and feeling rusty because I really haven't painted much at all in the last eight months or so! At some point I also need to come up with some basic rules for running the silly thing in Chain of Command, but that might be left for the ferry ride over to Vancouver Friday afternoon…