Having done hedgerows and fields, I wanted some rougher, more overgrown terrain, and I also wanted to start experimenting with tree creation, as trees are the one thing I've been lacking in my scenery so far.
I started with the last reasonable-sized offcuts of the 3mm plastic I used as the base for the fields. The rock walls are decorator's gravel and Gorilla Glue. I mentioned Gorilla Glue briefly in the article on fields, but briefly it's a thick glue (the colour and consistency of honey) that activates with water, and expands as it dries, foaming outward. I wet the surface of the plastic card with a damp paintbrush, ran a bead of Gorilla Glue were I wanted the wall, dumped gravel in roughly the formation I wanted, then sprayed the whole thing liberally with plain water. The expanding Gorilla Glue will fill some of the gaps between the pieces of gravel, and also fill out the bulk of the wall slightly. After it dries (a couple of hours) you can always run a second bead of glue across the top of the wall and dump more gravel on. Two layers of gravel like this will get a wall up to just over waist high on a 28mm figure, which is enough for my purposes.
The three straight rock walls are based on tongue depressors, so 6″ long and about 3/4″ wide. The three small fields/garden bits are old credit card sized gift cards I had lying around, with the raised beds and plow furrows done with hot glue. The larger pieces are all from the 3mm plastic card offcuts, the longest being about 8″ long, the triangular piece about 4-5″ a side.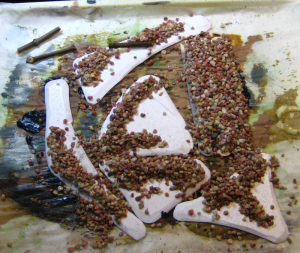 The trees are fairly heavy wire (sold in local hardware stores as "utility wire", I seem to recall) bent and folded with pliers, then glued down with hot glue. Once they're secured, I used more hot glue to bulk out the trunk and major branches. Everything – ground and trees – got slathered in white glue and had sand dumped over it at this point.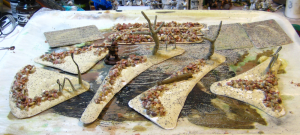 After the sand had dried overnight, everything was basecoated with dark brown paint, mixed randomly with a bit of black paint. The rock walls got straight black as a basecoat. All my basecoats also have a healthy dose of white glue mixed right on each piece to secure the sand and gravel.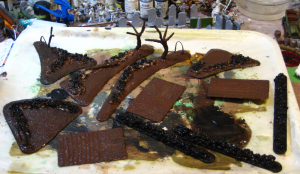 Last bit of painting is a pale brown/tan drybrush over the dirt and trees, dark grey then pale grey/white over the rocks, and finally a pale grey/tan/white mix drybrushed on the tree trunks so they're a slightly different colour from the ground.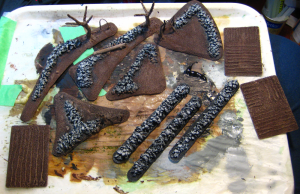 In Part Two, flocking, scenic foam and other scatter on the ground, lichen for bushes, shrubs and tree foliage. Coming soon!