Got a nice box from J&M Miniatures earlier this week, and even before I cut the tape on the box I could smell the future… oddly enough, the future (of wargaming scenery) smells like scorched MDF. Laser-scorched MDF.
Specifically, a whole whack of 4Ground's wagons. Corey had ordered approximately enough wagons to provide logistics for an invasion of Russia (well, OK, six…), which he might get around to showing off here at some point, and I'd tagged a single extra General Purpose wagon onto his order. I've previously reviewed 4Ground's Generic Horse Cart, so it was nice to get my paws on the cart's larger relative, the GP Wagon.
In the ziplock, you get a single 8″x5.25″ sheet of 3mm MDF full of laser-cut wagon parts and a single double-sided sheet of illustrated instructions. That and a dab or three of white glue are all you need to turn out a very nice wagon.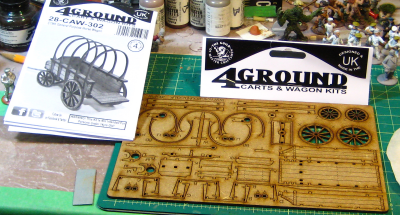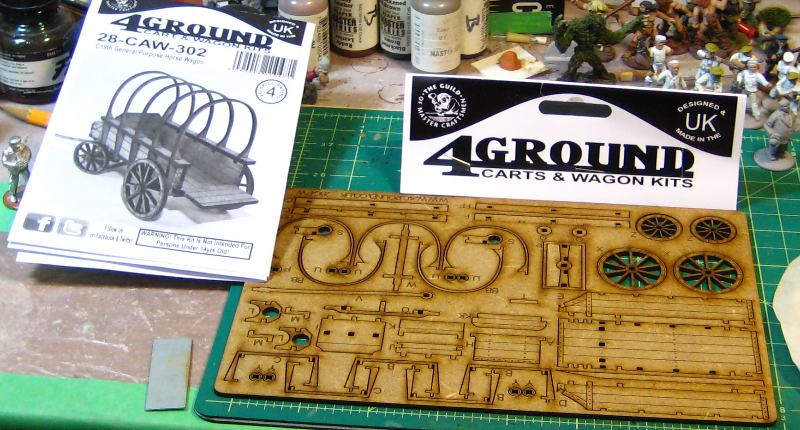 The GP Wagon is a bit more involved than the Horse Cart, but everything is very precisely cut and well engineered. I've built injection moulded plastic kits that fit a LOT less precisely than this MDF wagon does! The only time I found the photograph-illustrated instructions less than clear was when beginning assembly of the front axle/steering assembly, but a bit of dry fitting reveals that the pieces really only go together one way, which makes it hard to really screw up.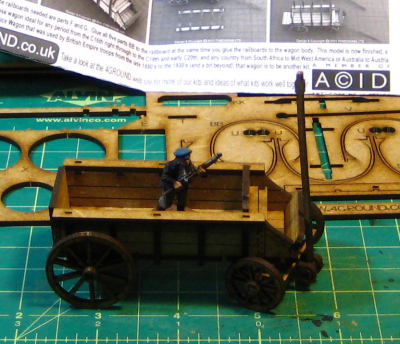 You have the option of adding canopy hoops over the bed of the wagon for the classic covered wagon look, but I elected to leave them off this one. The next will probably have hoops, just because! The finished wagon is just over 3″ long (6″ including the pole), about 1.75″ wide across the hubs, and about 1.5″ tall. You can fit three figures on 20mm bases into the back, two if you use oversized 1″ bases. I'll probably paint both this one and the Horse Cart eventually, but even in bare MDF they look pretty good, with the dark laser-burned cut marks providing nice contrast to the normal honey-brown MDF.