Hope everyone had a good Labour Day long weekend, if that's a thing for you, and a good return to school, if that's a thing for you and your family!
My hobby time has been really minimal the last while, both because the weather has been awesome, and because of whole piles of family stuff going on, both good and bad.
I've nevertheless managed to get the last of the resin water poured into the river modules, and touch up some of the earlier pieces done with epoxy glue with a skim of pourable resin to improve and harmonize all the water on all the segments. The two corner pieces done with epoxy had gone quite matte when the glue cured fully, not like the full gloss the resin retained.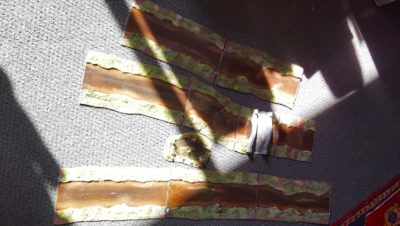 Not quite done with these river segments yet, though. The ends of each segment needs cleanup. There's bits of blu-tak that have bonded to the resin and will need to be scrapped off, a little bit of overflow resin to carve off, and most of the segments have little ridges at each end where the resin has crept up the tape-and-craft-stick dams at the ends of the segments. I'll need to carve those off carefully with a sharp knife, and might need to mix a tiny batch of resin to patch a few bits.
After that the flocking on the banks all needs to be re-done; I'll just cover over the existing flock with a new layer after the thinned matte medium went all milky.
Looking forward to getting this project done and onto the table during an actual game, it should look pretty damn good and I'm happy to finally have a high quality set of river segments at long last!