A few days ago Corvus Belli, the company behind Infinity, had a tweet and FB post asking their fans which of two alien "werewolf" varieties they liked better. For those not familiar, one of the interstellar colonies in the game's background, Ariadna, has dog-like natives who have managed (don't ask for details, it's pure anime genetics) to crossbreed in a few cases with humans, resulting in alien-human werewolves of several different types!
This seems like the sort of thing that would cause wild comment and speculation in the rest of the human cultures when Ariadna is rediscovered. The background fluff is full of gloriously over-the-top tabloid style reporting, so I channelled that and used CB's photo to create the following street ad that will be appearing on a billboard on my Infinity scenery in due course.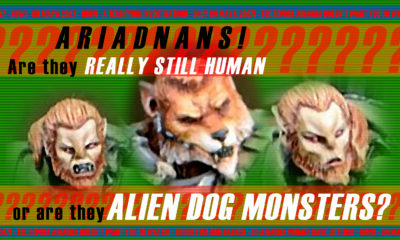 I apologize for nothing!