Not every stone circle is a gigantic trilithon monument like Stonehenge. Some of them might be barely recognizable as stone circles, in fact, until you realize that plants grown in strange patterns around the stones, or you wander past on certain very specific nights of the year…
This little project started out as a way to use up leftover putty; whenever I had excess greenstuff or Milliput I'd squish it into a rough stone shape and let it dry on one corner of my bench. This weekend I wanted a quick project as a distraction, so I grabbed four of these stones, hot-glued them to a scrap CD, and added sand. That got left to dry overnight, then I basecoated it dark brown, let that dry a few hours, and drybrushed the sand to bring up the texture with various shades of pale brown, tan, and very pale grey.
The stones got a black basecoat, the drybrushed with various shades of grey, tan, and finally white.
The flocked areas are my usual mix of ground foam and static grass, and then I added various tufts from Army Painter and the flowers from Rain City Hobbies. The flowers form a ring around the outside of the stones, and I kept the foliage inside the stones to a minimum.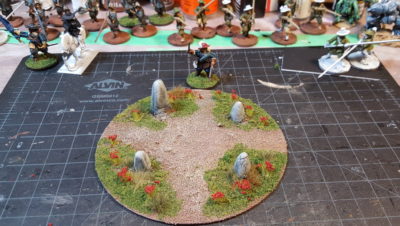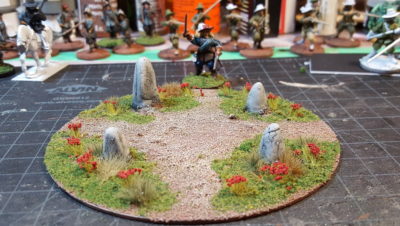 My ongoing English Civil War project might well shade over into some sort of gunpowder fantasy version of the ECW or TYW, in which case the circle will be right at home, and in the meantime it can add a little touch of strangeness to some lonely corner of my tabletops… who meets in the centre of this flower'd circle, with it's well-trodden paths? Be ye for King, Parliament… or some far older Power?!