I'm fairly sure the last time I touched a paintbrush was back in July. Maybe August. As posts here will show, all wargaming activity of any sort coasted to a stop sometime in the first week or so of September, mostly due to a brain- and free-time-destroying family health crisis and associated astronomical levels of stress.
Most of that is sorted and past now, thankfully, and I did some fun non-wargaming creative stuff before Christmas so I'm finally sitting back down at the painting desk and getting stuff moving again.
I've committed to running at least two games at Trumpeter Salute 2018, as I mentioned last post, so I need a bunch of my ongoing English Civil War figures and scenery done by March. To that end, I've started cranking through the long-neglected ECW figures, most of the plastic Warlord figures.
I finished the last details and added flocking to a unit of six firelock musketeers, half a unit of regular musketeers, a full unit of a dozen pike, and a dog.
I've since moved on to another dozen mostly-finished musketeers and four more officer/character figures. The officer/character types are a chance to bust out some fun colours, as officers rarely wore uniforms in this period and often dressed like the gaudy wealthy gentlemen they were.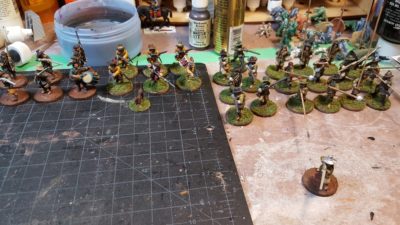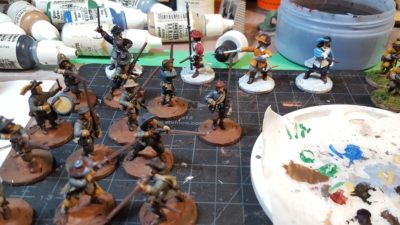 I have this week between Christmas and New Years off, so before the end of 2017 I might actually get a usable 24 point Pikeman's Lament force finished by forcing myself to deal with a lot of the mostly-painted figures!