Trumpeter Salute 2019 has come and gone. This was the first Trumpeter in many years where I didn't run a game which felt kind of strange, but that did leave more time for other people's games!
It was also the kick in the butt I apparently needed to devote a bit more time to gaming, after most of a year (two?) of basically doing squat except watch my gaming stuff gather dust.
Among the things I bought at Trumpeter was a pack of Frostgrave Wizards in plastic. I've been musing for a while now about mixing up 17th Century English Civil War/Thirty Year's War figures with magic and fantasy stuff of some sort, and while a lot of things like wands or wizard's staffs would be easy enough to add to figures with wire and putty, a couple of sprues of ready-made bits seemed like a good plan.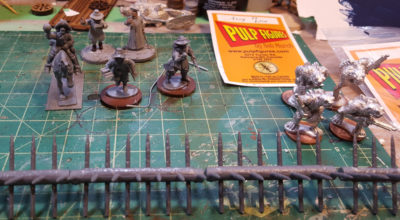 It turns out the Warlord plastic ECW figures and the North Star plastic Frostgrave figures are pretty much perfectly compatible. Very similar heights and proportions, and heads and hands similarly scaled. The arms are jointed identically at the shoulders on both, too, although the heads & necks are separate on the Frostgrave figures but integral to the bodies on the Warlord stuff, so if/when I want to start doing headswaps I'll need to do some surgery.
I also got a pack of four "Frogs with French rifles" from Pulp Figures, to give my Cthulhoid fishmen/frogmen forces some actual firepower. I'm not sure if these will be sold via Pulp Figures or Crucible Crush, but they're awesome!
Finally, I picked up a pack of Renedra's Chevaux de Frise for more barricades to scatter around – perfect for some of the Pikeman's Lament scenarios that call for a line of barricades or a barricaded village. The pack contains a pair of sprue frames that will give me about 18″ or so of chevaux de frise all told.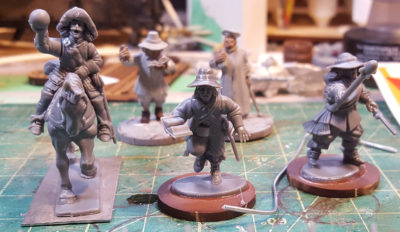 I whipped up the first three "weird ECW" magic users already. On the left is one of the regular Warlord cavalry figures with an arm and hip pouch from the Frostgrave wizards; centre is a Warlord firelock body with both arms from Frostgrave (usable as a religiously-inspired figure in straight historical games too), and on the right is a body from the Warlord infantry command sprue with arms from the same sprue and a wizard's staff from the Frostgrave set.
I've got a whole bunch of photos still on my camera from the actual Trumpeter Salute show; I'll try and get them edited and uploaded this coming weekend.