A few days into January I had a fall that destroyed my glasses and injured my shoulder, both of which combined to cut down the amount of time I was able to spend on the computer. The upside of this, as I still needed something to do, was that I started a random construction project and completed it in about three weeks. (glasses have been replaced and shoulder is nicely on the mend, too)
Over the Christmas holidays I had painted up an entire village of really cool Toadstool Brownies from Fenris Games (they'll get their own post soon) so I decided to trash bash a multi-story tower for them to cause trouble from, a sort of weird fantasy cross between a fortified tower house and a tenement apartment building.
I started with a medium size paper coffee cup from a widely available but deeply mediocre coffee chain, glued that to a scrap of 1/8th PVC sheet a bit bigger than my hand, then started adding details with scrap cardstock, wood coffee stir sticks, bits of styrofoam, paper, and Milliput.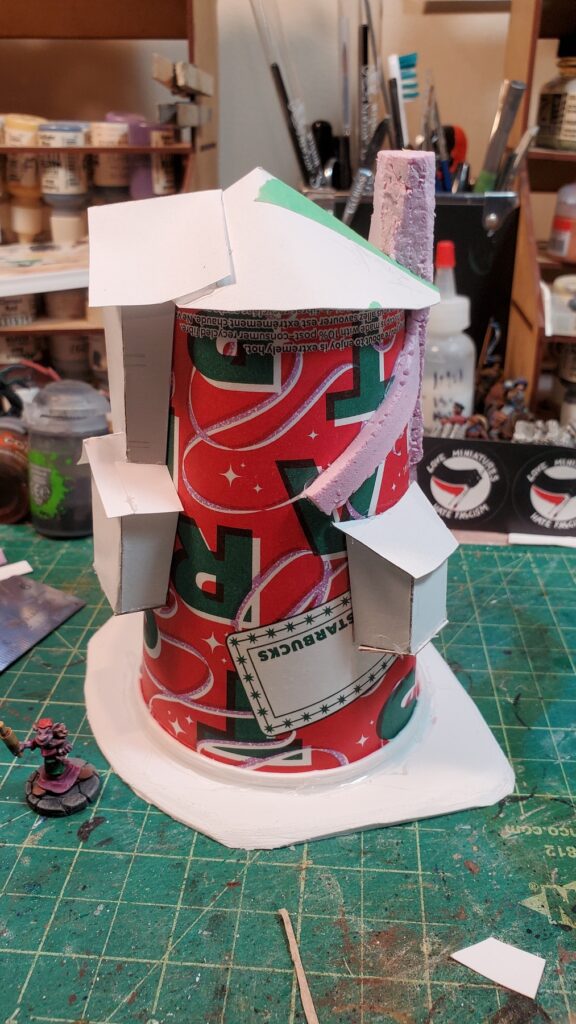 This hasn't actually graced a table yet, but I'm sure it will soon, and I want to write up stats for the Toadstool Brownies as either playable characters or random on-table nuisances for the games we play!
I haven't done a pure stratchbuild like this in a while, but really want to do more, and weird fantasy builds are SO much fun!