Went to our local municipal Remembrance Day ceremony in person this year, after two years of live streamed ceremonies watched from my computer, which was nice.
Also making time for some hobby this long weekend, starting with some scenery and bits to add interest to our 1/1200 coastal naval games. It is a truism of naval games that if you put any piece of scenery on the table, no matter how minor, some intrepid player will attempt to run their boat into it. Therefore, a new pair of sandbanks in progress to give players new stuff to run into!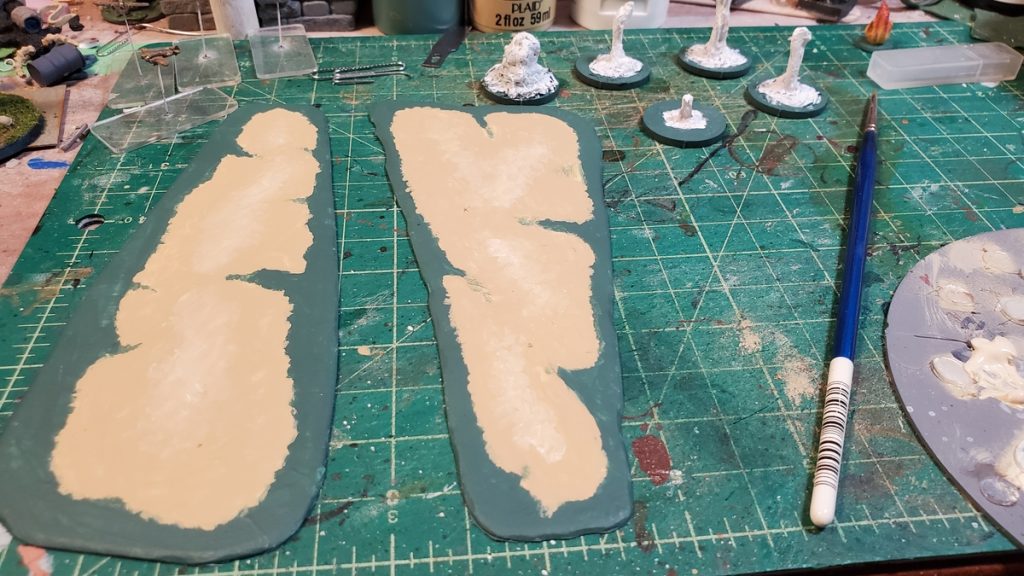 These are just simple shapes of .040″ (~1mm) plastic card with paint on them, two sand colours and the blue-green sea colour I've used on earlier naval scenery bits, and a bit of mindful brushwork and wet blending. I'll do some glaze coats to blend the edges a bit more, then a couple of coats of gloss varnish and some gloss gel for waves and done.
In the background are some in-progress shell splashes. I'm not entirely happy with them at present but will put some more effort into them before making up my mind one way or another.
The shell splashes were directly inspired by Yarkshire Gamer's rather nice photo/video tutorial over on their blog. He's working in a larger scale (1/700 to my 1/1200) and with larger ships, but the basic technique is solid. I'm working with hot glue instead of clear caulking and of course wanting smaller shell splashes in a smaller scale, so adapting as I go. I have some ideas for making them work still, so we'll see how that goes over the next few days.