I've talked up Rain City Hobbies on this blog before, but only for their very nice grass and flower tufts. They also do a huge range of resin bases, but because I rarely use elaborate complex bases they've not interested me much.

I do own a few of their resin bases, however, picked up from the "production seconds by weight" bin sold by Rain City at gaming conventions. (remember gaming conventions from the Before Times? I miss them…)

Needing a distraction from current events I decided to paint up the biggest of these, an elaborate ruined temple base nearly the size of a CD, their Huge Ruined Sanctuary insert. 120mm (~4 and a quarter inches, roughly) across, the production second one I have has nearly perfect molding of all the details, but it warped before the resin had fully cured so won't lie flat.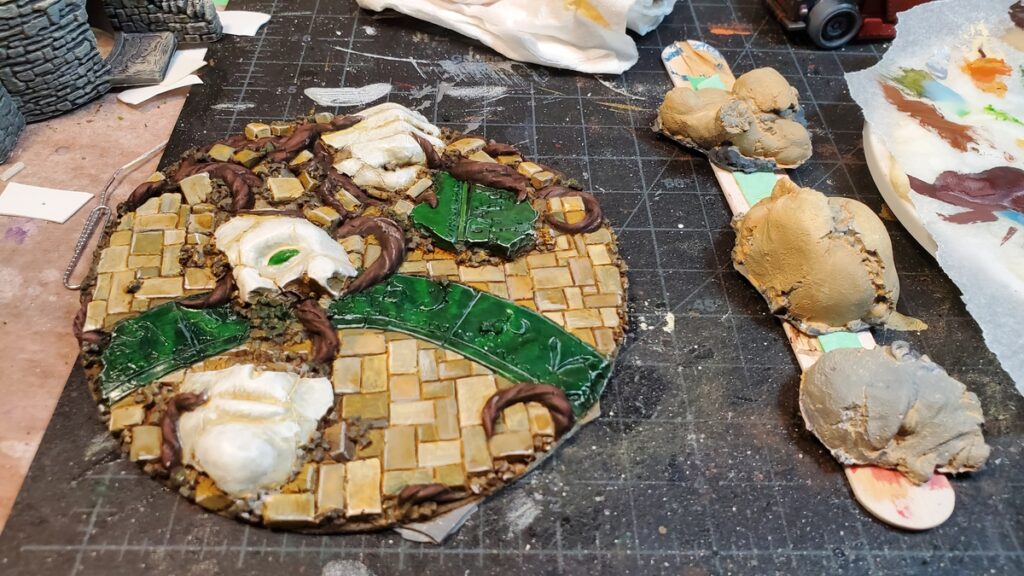 I tried out a bunch of different stone painting techniques on this base and I'm really pleased with how it turned out. The three big chunks of shattered statue were based in light tan, then progressively highlighted with whiter and whiter paints well diluted with glaze medium, which really got a translucent polished stone effect going.
The green arc and big green fragment were basecoated fairly dark green, then given marble-like veins with brighter greens, again well mixed with glaze medium. They got a good coat of gloss varnish, and then some highlighting with almost pure white.
The flagstones got basecoated with four or five off-white/tan shades, washed with GW Sepia and Earthshade washes, then highlighted with light tan and off-white. The tree roots are various shades of reddish brown.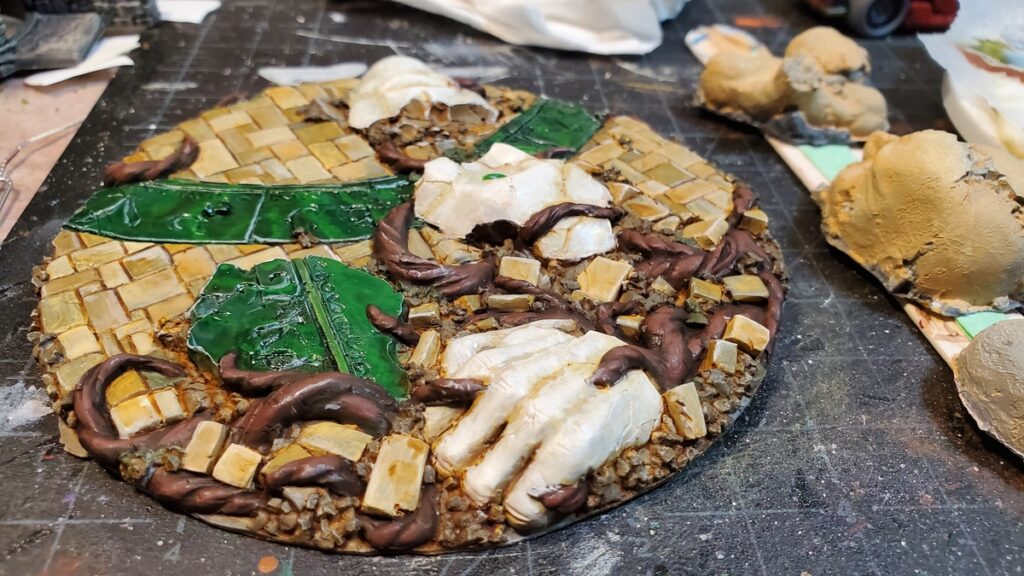 Because of the warp across the width, I'll probably base this onto a larger piece of thin plastic, then use putty and then foliage to merge the lifted corners back into the base, making this look like a fragment that has been largely swallowed by forest or jungle.
I've also got a few more random bases I might finish up, and those three tan pieces to the right in both photos above are the Large Broken Statuary Base Accessories that I will be using either together with the big base or on their own as scenery elements. More on them in some future post when I get them finished.
Stay safe, stay home, try to get something creative done, mask up when required out in public, and better days (actual gaming conventions!) shall come again.