Almost all of my gaming is done away from home, at other houses, up at the university on the weekend (our local miniatures group takes over a classroom up there every Sunday) and at conventions. So everything has to be portable or it's useless to me. Given the relative fragility of the White Russian SPAD, especially that damned upper wing, I needed a solid way to protect it in transit.
Some scrap cardboard, a dip into my stockpile of cheap upholstery foam (normally used for lining figure cases) and some work with razor knife and hot glue gun, and I had the SPAD Caddy: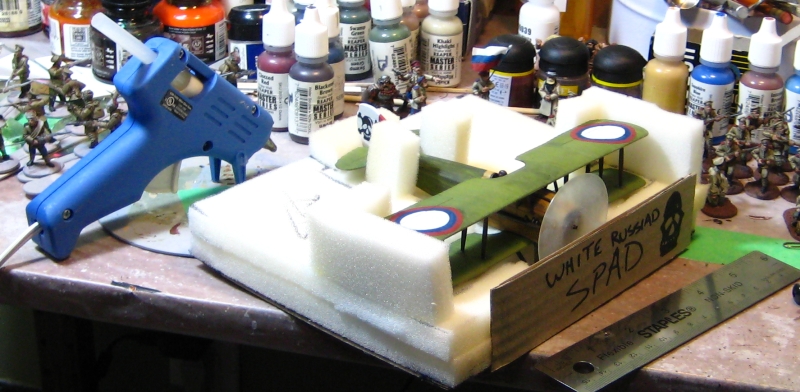 The base is a square of scrap cardboard, then two layers of half-inch foam with a cutout to accommodate the body and wings of the plane, and a deeper square cutout (through both layers of foam) at the front for the wheels and propeller. More scrap foam protects the tail and wingtips, and the two bits of foam forward of the tail hold the whole thing securely. The extra strip of cardboard across the front helps protect the propeller and landing gear as well as provide a convenient spot for a label.
I used the SPAD Caddy to get the SPAD and the rest of my Russian scenery and figures to Trumpeter Salute at the end of March, and it worked exactly as planned. There's even room in my Russian Civil War scenery box (just!) for a similar caddy for the Nieuport I plan on doing for the Reds.