As I mentioned recently, I've been rebuilding my Russian Civil War cards for Through the Mud & the Blood over the last few weeks. I've finally got the revised versions of my existing Red & White Russian card sets for RCW to a point where I'm happy with them, so for a change of pace this evening I set out to design some cards for some of the other forces we'll have available.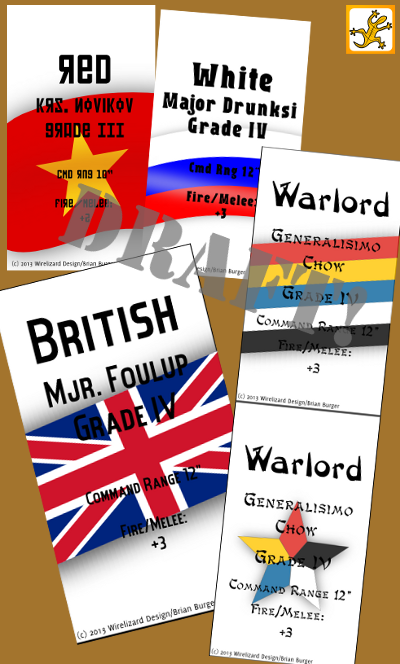 Above, a quick screenshot of the current state of my cards. The Red Russian card has slightly changed background art; all the Big Man cards have a significantly changed layout with more information, and I've got a basic background for both British and Warlord Chinese forces! I have a small force of British in tropical kit, and late in 2012 my brother picked up a starter force of Warlord Chinese from Copplestone, which he promises to paint up one day.
One thing I'm not sure of: flag or star insignia for the Warlord Chinese forces? The flag fits in better with my other force cards, but the star works a bit better with text on top of it, as that black stripe on the flag really gets in the way of legible text. Opinions in comments below, please!
The British are also, of course, likely to be useful for other M&B folks, so I'll get that set done up next, probably in February after GottaCon 2013, where I'll be running an M&B-powered RCW game!