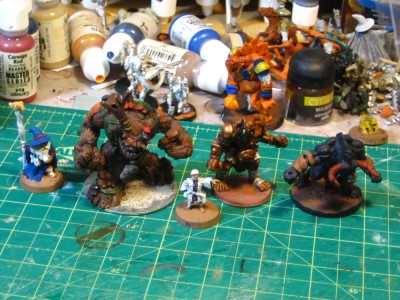 I'm going to be moving between Christmas & New Years so I've been busy packing stuff and cleaning; I've been in my current digs about three and a half years and the gaming stuff especially has kind of crept all over the place, so it's a good opportunity for some sorting, de-junking, and reorganization of my work bench. The new apartment will have more space for hobby stuff, which is both great and slightly worrying as wargaming has a proven ability to fill all available space!
Anyway, after boxing up the majority of the gaming stuff and doing some initial straightening of my actual workbench I decided to do a bit of painting to relax, and to work on some figures that have been lurking, mostly ignored, around the edges of my bench for ages now.
Primarily, that mean finally getting some proper paint on the massive Reaper Bones Spirit of the Forest. I based him and added some Blood Bowl-style shoulder pads ages ago (possibly 2014?) and he's sat around the edges of my painting mat ever since. A base coat revealed that the figure has all sorts of cool detail on him, plants, vines, fungus, and moss all over. I got some of that tonight and I'd run him on a BB pitch without being too bothered, but this really is a figure that will reward some time picking out more details. The one downside really is the sheer size of the figure – that's a 2″ washer I've based him on, and his toes poke over on both sides…
The other figures are a wizard (far left) for those (rare!) times when a BB team gets to hire a Wizard as an inducement; a gnome Apothecary to patch people up and get them back on the pitch; an Ogre so I can proxy my still-unpainted Amazons as a Human team; and finally a big Minotaur that I picked up because I liked the look of the figure but who might now become the centrepiece of a Chaos team from some of the other Bones figures available.
Almost all my painting the last few months has been on the BB Goblin team, so it was nice to get paint on other figures and especially satisfying to start on the giant Treeman.
With holidays and moving I might not get one more post completed this month, so if I don't, Merry Christmas, Happy Holidays, Season's Greetings, and Happy New Year to everyone!
(or, you know, Bah Humbug if that's more your thing!)