First post of the New Year! Happy New Year, hope 2015 was good and 2016 is at least as good.
I spent the week between Christmas and New Year moving, and a fair bit of the time since getting stuff sorted out and properly moving into the new apartment my girlfriend and I are sharing now. An important part of that was organizing the hobby space, of course, for which our second bedroom is going to serve nicely when we don't have guests over.
I've taken advantage of the fact that everything went into boxes for moving to keep the vast majority of my gaming supplies boxed up and in the closet for now, only bringing things out one project at a time to finish and organize things.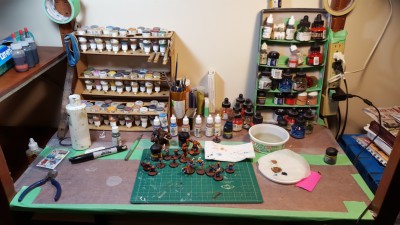 Some further changes are coming soon; I've found replacements for the pair of battered, decades-old swing-arm lamps (one at each shoulder) that currently light my bench, and I've ordered a second Impudent Mortal paint rack to go with the first I got back in late 2014 which should help keep things a lot better organized.
Painting right now is mostly Blood Bowl guys, although I have a bunch of Infinity models I want to get paint on, especially as we have another Infinity event coming up in February!