Quick and dirty late night snapshot of my workbench!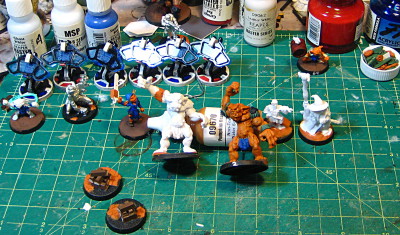 Front and centre is a Reaper Bones troll (in white plastic still, hence kind of blown out in the pic…) next to his orange-painted buddy. I've cut both arms at the elbows, repositioned them, and gotten started on puttying to cover up the damage. He's for my goblin Blood Bowl team, eventually, so the rather rough putty work will be covered with football pads similar to the ones worn by the right hand figure, who has just had pads added to his basic pose.
Most of the rest of the clutter is also Blood Bowl related; there's a wizard and a doctor just mounted on their bases to the right, a couple of goblins lurking, and two Bribe counters in the left foreground – the plastic sprue will eventually be painted to look like gold bars.
The background is mostly Infinity stuff, a pair of new figures for my Haqqislam forces and six consoles from Warsenal. More on the consoles sometime soon, as I'm writing up a review of them and the Supply Crates I also got from Warsenal.