I mentioned in the last post that I've been working on a third large hill, with a roughly 12″x15″ footprint, that being the maximum interior size of a banker's box. This one is a more complex outline than the previous two and was a fair bit more work to assemble, as I wound up using a lot of smaller pieces of styrofoam to piece the hill together.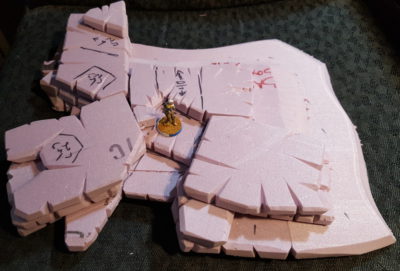 The "gully" up the centre of this hill is designed to allow 40mm wide based figures – many of the mid-sized or larger Infinity figures – to access it. There are a number of other areas on this hill that will allow 25mm based figures to stand and access.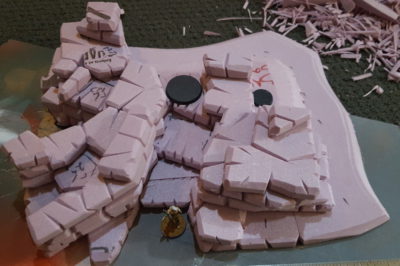 The sloped end of this hill still needs to be sanded, then I need to mix up a new batch of glue/sand/paint/plaster "goop" to texture the thing before proceeding with painting and flocking.
I'm not planning any more hills this large right now, but I do want to do a group of smaller hills, including some half hills that are explicitly designed to go against the edges of the table to help break up the long lines of sight that can happen on the sides or back edges of too many tables.