Every year or so over on Lead Adventure Forum they hold a friendly Build Something competition. There's a theme that imposes some restrictions; one year it was "your scenery must be based on a CD"; we had "marine/watercraft" once, and this year the theme is "flight".
I've been a LAF member for years and it's an awesome forum, but I've been fairly inactive over there for the last year or so. Joining the Build Something 2017 Contest was a good way to nudge me back into being an active member of this awesome online community.
The theme being "flight" I thought of doing a cargo shuttle of some sort for Infinity, but with only a six week timespan to complete the entire contest entry in, from start to finish, I shelved that tempting idea in favour of an entertainingly silly piece of Blood Bowl sideline terrain: the goblin-crewed Bloodyear Blomp, which carries magical cameras and announcers over Blood Bowl fields all over the known world!
To give it some actual in-game purpose, I'll put a pair of Reroll counters on the base of the thing, to go along with the goblin scoreboard I made a while back.
Being goblin-engineered (to push the term "engineered" very near it's breaking point!) the Blomp can be a bit ramshackle, so I just started building! I picked up a pack of craft foam spheres as the balloon/envelope structure of the Blomp and started jamming them together and then covering them with bits of scrap fabric.
Here's the first building session's progress.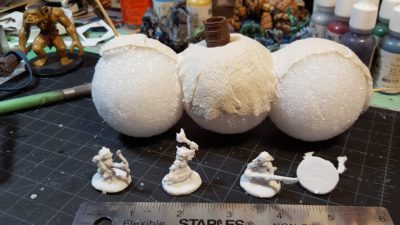 Since then I've added a fourth sphere to the tail end and done some more fabric.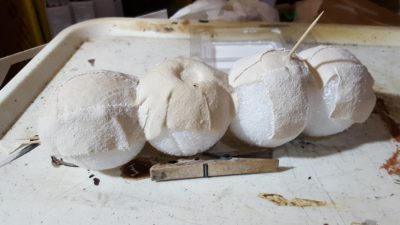 I've got a build thread over on LAF that will generally be updated faster and more frequently than I'll do blog posts on the Blomp, in keeping with the spirit of the contest. I still need to figure out the gondola design and a bunch of other details, but it's been a fun build so far!