Blomping along…
Primer! Got the gondola spray-primed grey and the balloon envelope brush-primed black.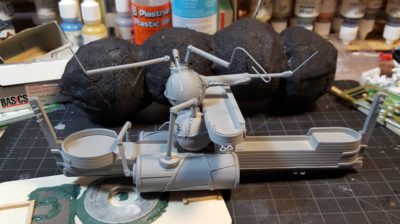 The LAF Build Something 2017 contest rules ask that you not post painting progress photos of your project past the priming stage, so this will be the last photo anyone sees of the Blomp itself for a while. I'll try and remember to take some in-progress shots and save them for a post-contest photo gallery, though.
Up next is finishing the base with a bit more putty and then paint and flocking, and then working on the half dozen or so goblins who are going to be crewing this thing!
Deadline is Feb 18th, which is coming up awfully fast!