With the farmhouse and dovecote progressing well, I wanted to move on to a few smaller buildings to the mix.
This little stone outbuilding is the first of those. It's a few random scrap pieces of pink insulation styrofoam, hot glue, and a chunk of corrugated cardboard so far. Footprint is about 2″ wide by 3″ long, and it's about 2.5″ tall or so.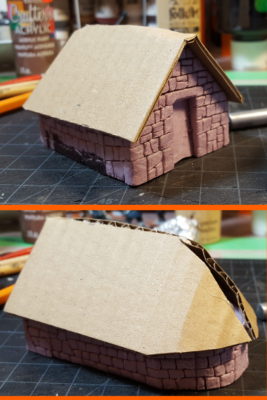 The four wall pieces were glued together with hot glue and the curve across the back cut after everything was assembled. I didn't get a photo before I put the cardboard roof on, but there's another couple of bits of scrap styrofoam under it to reinforce the roof.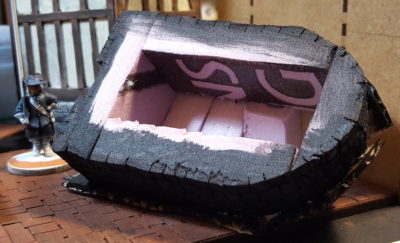 The gap in the front wall will get a door from scrap cardstock after the stonework is all painted up.
This one might be finished tonight, if I get time to glue the towel thatch down and slap a bit of paint around. It's nice to have some quick little projects sometimes!