Way back in December 2018 on Twitter, Bears Head Miniatures showed off pictures of their new Beholder-alike floating eye beastie, Narthoks the Excellent. I made an offhand comment of, "With that expression, somehow I see him as the wholly unexpected barkeep behind a very strange bar somewhere, towel draped over one tentacle, goblets and beer mugs in the other tentacles…"
The Evil Eye Stalker has a name – Narthoks The Excellent! pic.twitter.com/ipThUHXmHU

— Bears Head Minis (@Bearsheadminis) December 5, 2018
With that expression, somehow I see him as the wholly unexpected barkeep behind a very strange bar somewhere, towel draped over one tentacle, goblets and beer mugs in the other tentacles…

— Brian Burger (@wirelizard) December 5, 2018
A few weeks later, Bears Head posted this:
A drawing of the Kickstarter exclusive Narthoks The Excellent Bartender. Drawn by @MartinWhitmore . To whet your appetite whilst the sculpting happens. pic.twitter.com/xOP9tCF6W6

— Bears Head Minis (@Bearsheadminis) December 31, 2018
…and naturally I had to join their Kickstarter, even though I had no particular use then or now for a Beholder, in bartender guise or otherwise! (is a bartending Beholder actually a Beerholder? A Barholder?)
My understanding is that the bartender version was a Kickstarter-exclusive, but the regular and sci-fi versions of Narthoks are available over on the Bears Head website, along with all sorts of other interesting figures!
So what did I get for my offhand comment? Narthoks is a big chap, roughly 2 and a half inches across at the tentacles and about 2 inches tall from bottom of tentacles to top of head/topmost eyeball. Taller than that once he's on his flying base, of course. He's got a towel and glass in his frontmost tentacles, a cocktail shaker in his right-hand tentacles, and a bottle and glass in the left. All the bar-ware is scaled to Narthoks, which means the glasses and shaker are the size of barrels from a human viewpoint!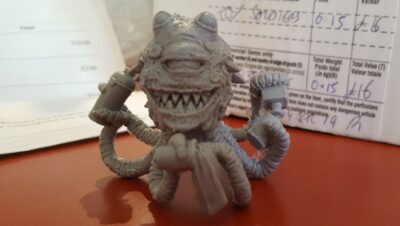 The figure is resin and nicely cast, with only a bit of cleanup along seams and some casting flash. He's in two parts, tentacles and base/neck (?) and then head, and while the seam between them has more gaps than I'd normally like to see, the textured nature of his skin makes disguising this seam easy once you break out the greenstuff.
Anyway, after Narthoks the Barholder showed up in May 2019 he sat in his box until just a few weeks ago (end of January 2020), when I felt the need to radically change up my painting after painting a couple of dozen lovely but fussy and tiny 1:1200 WW2 naval boats!
For painting, I was inspired by Dana Howl's awesome video on using glaze medium, which I've linked to at least once already on this blog, and by the splendid and underused (by me, at least, in usual day-to-day painting) Royal Purples triad from Reaper's paint line.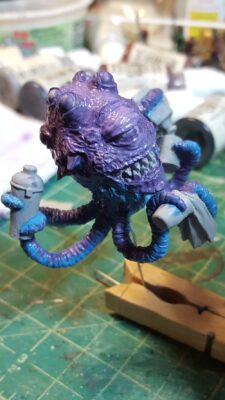 Narthoks' underside is various shades of bright blue, his topside is mostly Imperial Purple, shaded down with Nightshade Purple and highlighted with Amethyst Purple. The eyeballs were painted Pure White then glazed with a variety of yellows, reds, and oranges.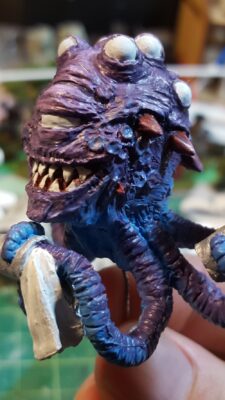 Final highlights on Narthoks' body were a mix of Amethyst Purple, Pure White, and glaze medium, 1:1:1; this is most visible on the eyelids and on the bits just above the "horns" along each side of the body. The eyeballs have all had a coat of gloss medium, although as I haven't given the whole miniature the usual coat or three of protective matte varnish, this gloss will have to be redone in due course. Ah well.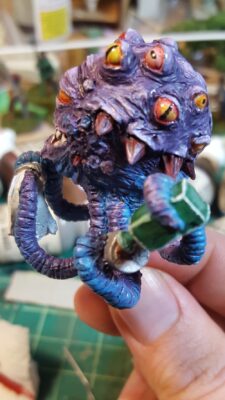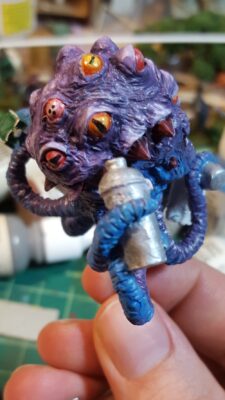 Narthoks comes with a standard clear plastic flying base; I ran a length of paper clip wire up into him for a painting handle and to help pin the two halves of his body together. I'll trim that short and slot it into the post of the flying base, but I might replace the clear plastic base with something more bar-like, either flagstones or a wood floor. I'm actually tempted to get a small display dome for Narthoks and put him on one corner of my home bar cabinet as a mascot of sorts, as I currently have absolutely no actual gaming-related use for this awesome figure!