Rummaging through one of my boxes of random figures last week (as one does…) I came across one of the random Reaper fantasy figures I'd picked up on clearance over the years, the massive wolf-like Warg. No modern Bones resin-plastic lightweight here, this is a solid pewter beast nearly as big as a 28mm horse!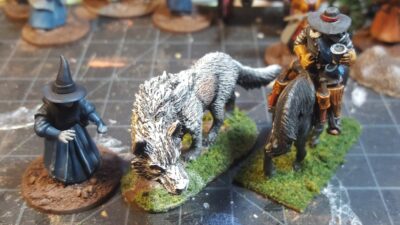 The base was assembled from three pennies and a bunch of Milliput, the warg got primed, and then it went into storage sometime in early 2014 (when the first paragraph above was written…) until just after New Years 2020, when I said to myself, as I was painting other demon dogs and werewolves, "Self, don't you have a massive great pewter warg somewhere, bought many years ago?", and after more rummaging in more boxes of miniatures than I'd like to admit to, the warg saw the painting bench for the first time in six years or so, and it was good.
The thing is even bigger than I remembered it being, over head high at the shoulder next to a similarly based 28mm figure and taller and bulkier than a warhorse. The base is roughly 20mm wide and 45mm long, and muzzle and tail stick out over both ends.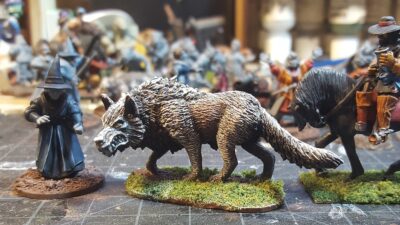 Looking forward to seeing this guy loping across the playing field, eating people and stealing souls, or perhaps the other way around! You never know with demonic canines…