We had our first game of Frostgrave last night, for which I used a few of my 17th C/ECW figures, because why not? As usual, I managed not to get a single photograph during the game.
I've decided to go with a "Greengrave/Forestgrave" theme instead of the default Frost- part of Frostgrave, so that we can keep using our current scenery rather than starting from scratch with winter stuff.
One of the FG scenarios calls for a quartet of 2″ teleportation discs set up around the board, so I decided to whip those up today. The discs themselves are pink styrofoam, based on scraps of plastic card. Quick and easy scenery, a few hours from start to the current state shown here. They could well serve all sorts of purposes aside from just teleportation discs, and I'm sure they will.
The other piece I created today started with the resin mushrooms from Bad Squiddo games I got a few weeks ago. I've been painting them up whenever I have leftover paint, got them finished today while waiting for the discs above to dry, and decided to put together a really, really gnarly fairy ring that, even more so than most others, you really do not want to enter. That's a 28mm Frostgrave witch on a 25mm base behind the fairy ring; most of the mushrooms/toadstools are at least waist high on a human.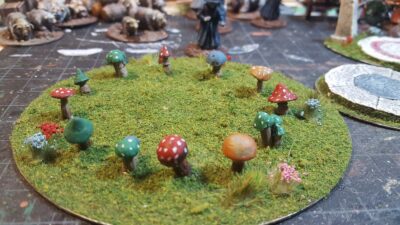 This might feature as some sort of marker in a game eventually, but for now it's just some colourful scatter terrain to fill in a blank spot on the table and possibly worry players!
We enjoyed our single game of Frostgrave so far, and I'll try to get a couple of photos tomorrow while we also try to get fewer rules wrong on our second outing!