I've always know that hanging paint brushes bristles down to dry was better for them, but never bothered doing anything about it. Recently my selection of brushes has expended as I'm using cheap makeup brushes for drybrushing and, right at the other end of the brush quality spectrum, my wife spoiled me at Christmas with a trio of gorgeous W&N Series 7 brushes, the seriously expensive ones.

My painting bench is an old Ikea modular shelving unit, and I realized I could add a brush rack to the underside of one of the shelves just off my actual painting area, where it would be out of the way but close at hand for convenience.
Even better, I realized with a few seconds of experimenting that I could make a functional brush rack from scrap foam and recycled cardboard! The foam happens to be sheets from Infinity box sets, about 4″ by 6″ or so; I took one sheet of that, cut it in half lengthwise, and then cut a series of slits about an inch apart and maybe an inch and a half deep.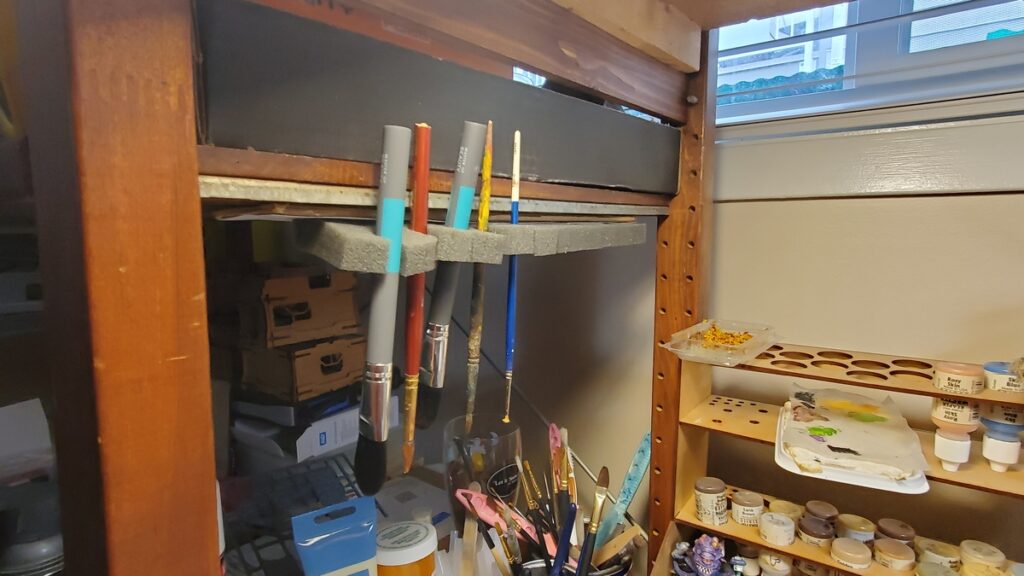 I hot glued the foam to scrap cardboard from the recycling bin, then hot glued the whole assembly into place on the underside of the shelf just on the left hand edge of my painting bench. If I ever decide to replace it or move it, the hot glue can be popped off the wood of the shelf fairly easily.
The slit foam will even hold the wide handles of the cheap makeup brushes I've started using recently for drybrushing and the 2.5″ housepainting brush I use on big scenery projects. Given it cost me exactly nothing to make, took just a couple of minutes, and uses a spot on my hobby bench that was previously empty space, I'm very pleased with this little project!