A quick look at my painting bench as a I get ready for Saturday's Russian Civil War game at GottaCon. On the right, 15 Bolsheviks, a mix of regulars and militia/Red Guard types. Behind them across the back of the cutting matt, a unit of Russian horse. Behind them and currently being ignored, 10 American gunboat sailors from Pulp Figures. On the left of the mat, 14 Bolshevik sailors. Off the mat to the left, a batch of finished Whites from ages ago just waiting to be re-housed as I (yet again) reorganize my figure storage. Centre, a field gun — the crew are lurking behind the Red sailors. The CD has some new greenstuff banners I just primed, and a small pile of ready ammo that will form part of a loaded/unloaded marker for the field gun.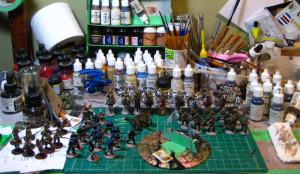 In other convention-related news, I've submitted my RCW game to Trumpeter Salute; haven't had the event confirmed by the organizers yet but it's nice to have it submitted.
Right, back to the painting mines! Four days to the game!