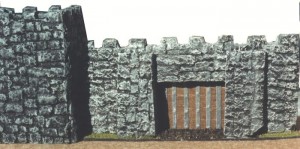 This is a repost of an old article from the original Warbard pages. – Corey
I've built most of a smallish fortress/castle, finally got enough finished to use in a game, and to show off here to update this page!
The front face of the wall & gatehouse pieces is made of plaster, cast into a large latex stone-wall mold I've got leftover from model railroading. The battlements are carved out of one edge of the plaster slab, and in the case of the gatehouse the gate section was cut out.
The rear structure of the gatehouse and wall sections – the wall-walk and rear walls – are mat board, the very tough high quality cardboard usually used in picture framing. A very thick coat of paint over the smooth card gave the whole thing texture.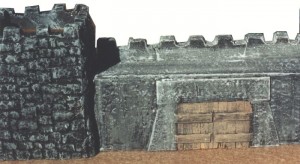 The gates are both wood – the front gate is basswood stained with umber ink, and the metal strapping is made of thin styrene strips with the rivet detail pressed in with a pin, then painted metallic steel with silver drybrushing. The rear gate is actually coffee stir-sticks – they make very good planking, and they're free!
The towers are cast plaster on all four faces, with the tops carved into battlements just like the wall sections. Cardboard and wood are used as a floor on the top of the tower.
All the sections were painted black first, as a primer coat, followed by a fairly heavy grey dampbrushing. After that was dry, straight white was drybrushed over everything to make the texture come out. The gatehouse has the best paintjob – I'm probably going to redo some of the others sooner or later, because I think they're really too black.
I still don't have enough pieces for a complete fortress, but there's enough for a respectable-looking setup on one edge of the table. See my DragonFlight 2000 report for some photos of the fort in use.