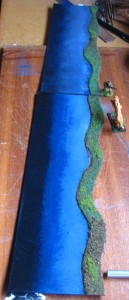 These riverbanks or shorelines made from picture-framing board (mattboard). I did the first set back in 2009 and another batch in the winter of 2010. They're designed to form one edge of a playing board, especially on the 2'x2′ playing areas common to .45 Adventures. One of the really nice things about games like 45A that encourage smaller playing areas is that terrain projects become a whole lot more managable — no more having to crank out eight feet of river just to have enough to be usable on the table!
Each segment is 12″ (1 foot) long and 5″ deep, 4″ of river and 1″ of banks. The banks are the same mattboard as the rest, to keep them as low-profile as possible. The painting is black and two colours of blue, damp-blended right on the card. I tried to keep the edges mostly matched while painting the pieces. The water portions then got about six or so coats of acrylic gloss varnish so they looked like water. If I was going to paint them again, I'd do the water areas a greener shade with less black, as is often seen in murky jungle rivers.


In the winter of 2010 I added two new segments to the set, one another copy of the existing riverbank pieces, and the second incorporating a ramshackle wooden dock. The dock segment was wider than the others for most of the length, although obviously the same width at the ends. The docks were built up with baswood planks, with toothpicsk and bamboo skewers for the piilings. The large dock section is glued to the base; the three smaller sections are freestanding for flexibility.
All four sections have been largely free of warping or damage, although the docks section does havea tendency to bow when stored. The eventual plan is to rebuild these riverbank sections in 2mm or 3mm MDF, using a bandsaw to cut the curves, but mattboard will do until then!
(these photos have been seen over on the Lead Adventure Forum and elsewhere previously, if you're thinking they look a bit familiar…)