Note: These signs are Brian's work from the old Warbard. One day they may be recreated in Inkscape and SVG — Corey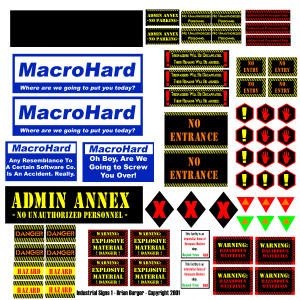 This zip file contains two very detailed, 1200dpi images in Adobe Photoshop PSD format, with lots of varied industrial & safety signs to decorate your industrial scenery and buildings.
Each image is roughly 3×3 inches. Print onto standard paper – or the lightest paper your printer can handle – and cut out and glue onto your scenery. A few of these on a nice piece of industrial machinery or factory wall really make a piece 'pop' – after all, real industrial sites tend to be plastered with signs, notices and warnings. (The actual images are MUCH more detailed than the little sample image here!)
As usual, these are free to download, print or modify for personal use.