Back one of the before-Christmas sales, I picked up a Fiskars circle cutter on deep discount from one of the local art supply stores. It's been on my toys-I-want list for ages, and a chance to get it at 40% was too good to pass up.
It's proven to be a useful gadget, although with some limitations. It will cut paper, light card and styrene up to about .020″ or .030″ thickness no problem; anything heavier than that it'll score but not cut. With thicker styrene you can score then clean up with a file or sandpaper later, but this obviously means cutting heavier card is out.
Exact alignment of the circle to be cut out can be a bit tricky, but the central rubber "foot" does pull off to reveal a more compass-like needle foot which makes alignment easier. Of course, I only realized the needle foot option existed a few days ago, when I finally got around to reading the "Instructions and Tips" PDF from Fiskar's site. Amazing what you learn when you read the instructions, isn't it?
The other work-around for imprecise cutting is to design graphics that don't have to be cut terribly precisely, of course. That's what I did when I laid out the graphics for a batch of 1″ circular markers for use in our Russian Civil War games.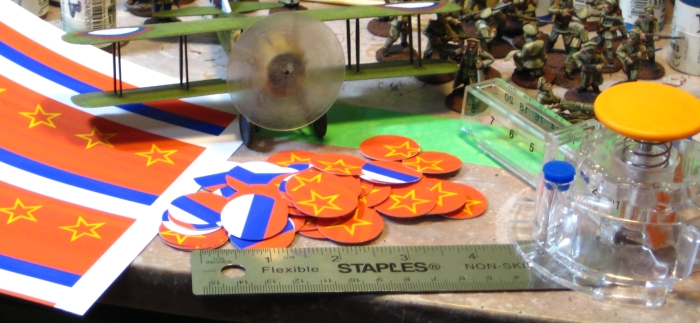 The markers will mostly be used for showing which Big Men & units have activated in any given turn, as we noticed it can be easy to loose track of which units have been activated with multiple Big Men running around in Through The Mud & The Blood. They can also be used to mark things like sustained fire lanes for machine guns or similar, of course.
On the left of the photo, notice the sheet I laid out in Inkscape for the markers; except for the star the solid colours are fairly forgiving of cutter placement. A few of the Red star markers have had their tips clipped by the cutter, but they're still obviously Red Army stars, so I'm not fussed. Now that I've discovered the cutter's needle foot option, I should be able to cut out the remaining marker discs perfectly.
The SPAD's prop disc was cut from leftover heavy clear plastic from a blister pack, then put down on a sheet of 600 grit sandpaper and spun by hand to get the hint of motion blur in it. I wound up taping the piece of plastic to my cutting mat, then the cutter worked nicely on it.
So, the Fiskars Circle Cutter. A useful piece of kit, within it's limits. I'm sure I'll get years of use out of it — but wait until you find one on sale before getting it!