In my last post (two+ weeks ago!) I mentioned I'd bought a bundle of Sarissa Precision's lasercut 28mm CityBlock buildings to bring our pulp gaming into an urban realm. I've finally got all seven buildings assembled; here they are on the counter.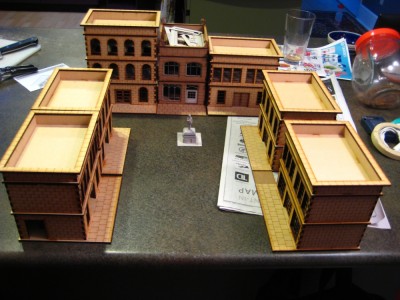 The six similar buildings are from Sarissa's CityBlock bundle, with one extra floor purchased to give me five two-storey buildings and one three-storey building. The seventh building is the Narrow Townhouse from Sarissa's Gaslamp Alley Victoria SF line.
The CityBlock buildings go together quickly and easily; the walls and floors are 3mm MDF, and the window frames are seperate sheets of 2mm MDF designed to slot in behind the walls. The first several buildings I put together with more enthusiasm than consideration and glued the windows in right away; for the ones I've finished more recently have had the windows left out for now to make them easier to paint.
The floors and roof all come apart to allow access to the interiors of the buildings during games, and the simple tab-and-slot system should survive many games with no issues. The buildings all feel very solid once assembled.
The Narrow Townhouse from the Gaslamp Alley range is one of Sarissa's most recent releases, and there's a number of tweaks, refinements, and added details compared to the older CityBlock buildings. The interior floors have wood planking engraved on them, some of the etched and cut detail is a bit finer, and instead of 3mm & 2mm MDF, the Gaslamp buildings use 2mm MDF and laser-cut light cardstock, called "greyboard" on Sarissa's website. This makes the Gaslamp buildings lighter than the CityBlock ones (although just as solid) and somewhat more detailed. The windows have both inner and outer frames lasercut from cardstock, for example.
Having assembled the basic buildings, I'm now turning toward detailing them before painting. I want to add some details and bits on the front facades and cornices of the buildings, and to the roofs. I'll use fine modelling gravel on some roofs for a tar-and-gravel roof, and narrow masking tape on others for tarpaper roofs, and add details like chimmneys, roof walks and possibly even rooftop signs.
After that it'll be time for paint. The engraving on the CityBlock walls is too large to "realistically" be brick, but I'll likely paint several of them up in traditional red bricks anyway, as well as some as stone.
Detailing photos and writeup in the next couple of days!