In the local Bloodbowl league I'm currently involved in, there's a pair of Lizardman teams, one using the regular GW figures for the team and my crocodile dudes from Impact Miniatures. Our League Commissioner is also playing with an Orc team, and will occasionally write a game report in the persona of his Orcish coaching counterpart. After thumping on the league's other Lizard team 2-0, the Orcish coach was heard to say, "Herd der is some dat look like those Crocodiles on dem Golf shirts everyone is wearing dees days; CHOMP!!! CHOMP!!!!"
I was, at about the same time, wondering what to do for decoration on the dugout temple. A little bit of Google Image Searching and a little bit of Inkscape fiddling later to produce a basic image to guide my carving, I sat down with the completed temple, a very sharp Xacto blade, and this resulted.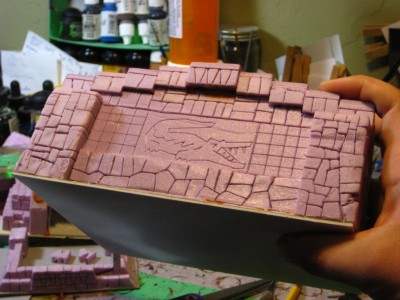 I printed out a simple line-art version of the relevant logo, taped it down across the foam, and went at it carefully with the brand-new very sharp Xacto blade.
On the front of the dugout above the three actual dugout areas, I put the logo of my lizardman team, as seen in earlier in the year. Same procedure, taped the printout down and carefully went at it with an Xacto.