When I finished the new BB scoreboard temple back in May I mentioned that when I got back from Europe I was going to be building a new set of Bloodbowl sideline terrain to match the new scoreboard.
I've got one of the two dugouts (with turn & reroll trackers) built and ready for detailing, and using leftover bits and pieces I've put together a small dice tower as well.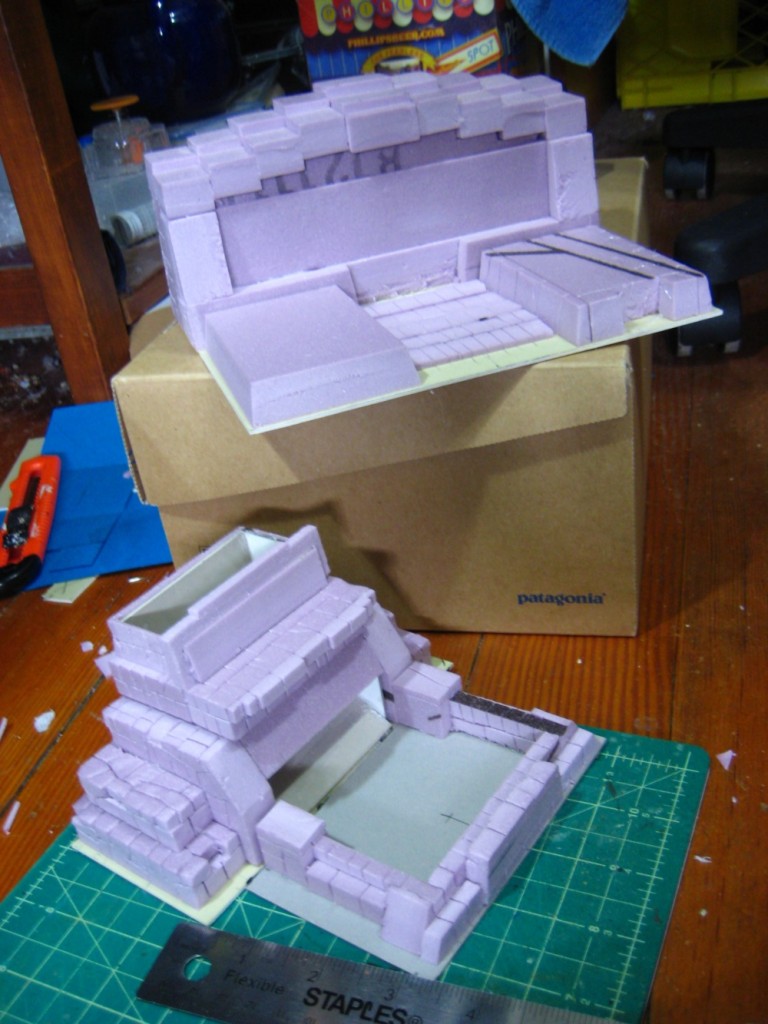 The dugout/tracker temple piece has the three dugouts (Reserve/KO/Casualty) across the front, and the roof will be marked up for tracking turns (the eight tiles down one side), first half/second half (the two larger tiles at the peak of the roof) and re-rolls (the eight tiles down the other side). Overall size is 7.5″ wide, 6″ deep and about 3.5″ tall. The whole thing is styrofoam insulation board.
I haven't yet started the second dugout/tracker temple because I'm out of full-size sheets of mattboard (picture framing card) to use as the base, but it will have the same footprint. The whole set is designed to fit into the large Patagonia shoebox the dugout is resting on, because I do almost all my gaming away from home and I want to keep the whole BB setup small enough for easy transport, including in my bike panniers!
The second, smaller piece is a dice tower that is just big enough to roll full-size dice. It's 6″ wide, 2.75″ deep and just under 3.5″ tall, those being the dimensions of the leftover space in the shoebox when two dugouts and the scoreboard temple are tucked into place, and allowing for a couple of inches on top for the fabric pitch to tuck in — which also serves as padding for the buildings.
The internal structure of the dice temple is mattboard; the outer detailing is offcuts of styrofoam.
The catch tray for the dice is a separate piece about 5″ wide and 3″ deep. It's going to be painted up as a sacred pool eventually, with gloss varnish as seen on the scoreboard temple. I might try to do something clever with magnets to keep the tower and pool attached while they're in use, or just glue a tab of paper onto the bottom of the pool that sticks under the tower and helps keep them together.
Lots of putty detailing and styrofoam carving left to do on these two, and I need to hit the local art supply store this weekend to restock on mattboard so I can start the second dugout to finish the set.