Still loads of things to finish on the project, but after doing the crocodile head logo in the centre of the pitch this evening I just had to lay everything out on the dining room table and see it all together for the first time!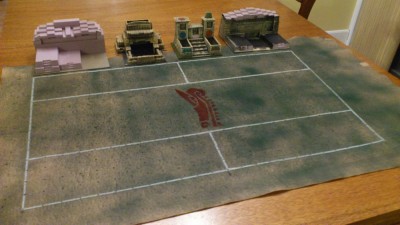 The pitch still needs white field lines at both endzones, as well as possible decoration in the end zones – I'm thinking of doing a coloured background in each endzone, probably red at one end and blue in the other. I might also do the name of my Lizardman team, the Saltwater Slaughter, across the endzones as you see in a lot of American football fields, "Saltwater" across one endzone and "Slaughter" across the other.
Left to right behind the pitch, there's the newest dugout/tracker temple, still bare styrofoam with decoration just barely started. Next to the right is the dice tower temple, which has been basecoated and still needs more paint. The plan is to have rare earth magnets built in to hold the temple itself and the sacred pool/dice catch tray in front of it together when it's in use, so that'll be some putty work to get the magnets mounted.
The scoreboard temple next is basically complete, except that I'm modifying the centre socket above the stairs with the scatter diagram so it holds the weather indicator cube more securely.
Finally on the far right is the first of the dugout temples, which still needs decoration and detailing on the roof but at least is partially painted on the rest of the building.
Much done and much left to do, but it's nice to see it all set up!