I've got a felt Blood Bowl pitch that I have marked the standard grid on (15×29 30mm squares) but after months of using it I hadn't gotten any further than that in transforming it from a useful but plain piece of fabric into a proper, good looking BB pitch!
Toward that end, I used some full-sheet self adhesive label paper to create a couple of test templates for stencils, cut them out with an Xacto knife, and stuck them down to a scrap piece of felt.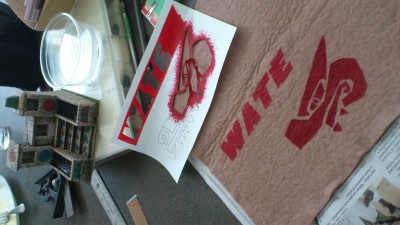 I tried red spraypaint on one part of the stencil, then used red craft paint and 1.5″ brush on the other part of the stencil, with the classic crafter's method of brush painting a stencil – vertical stabbing of the brush down onto the stencil, so as not to get paint under the stencil or dislodge it while working.
Both methods worked just fine, and I'm not sure which I'll ultimately use for the logo and lettering stencils I want on the actual pitch.
The pitch itself finally has a light spray of green spraypaint over it to make it look grassy (the felt itself is tan) and tomorrow I'll mask off and spray the field lines a Blood Bowl pitch needs – centre line, wide zone and end (touchdown) zone lines being the most important, although I'll probably do the field edge lines on all four sides as well, eventually, just to properly finish the pitch.