Decided that my Blood Bowl Goblin team, currently glorying in the name of T.U.R.D. (what that stands for changes every single game they play…) needed a scoreboard, to use as substitute to my existing Lizardman temple BB setup.
Goblins have an reputation for being clever but not smart, and for lunatic behaviour at the best of times. This presumably explains why they attempt to play Blood Bowl at all, and excuses all sorts of things like really shoddy carpentry. With that in mind, I broke out the craft wood and set to work!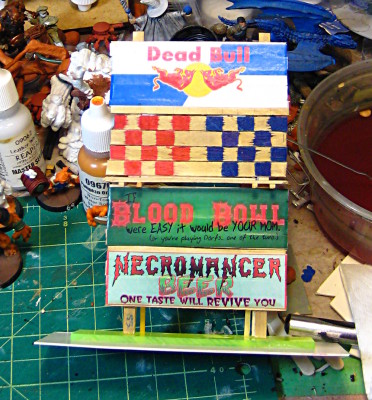 The main structure is coffee stir sticks, with basswood strips for the big vertical beams. The eventual plan is to have small rare earth magnets behind the scoreboard, embedded in a wood beam, to hold magnetic strip score number placards in place, and to have a smaller weather placard in between the two scores. There's still some details to add, like "US" and "THEM" labels above the two score areas, and possibly a small announcers stand right at the top of the whole thing, some sort of rickety crowsnest with a raving goblin announcer howling away.
The base has a strip of scrap acrylic with two holes drilled in it to support two bits of wire that go up into holes in the bottoms of the legs, holding everything solidly, and then some scrap plastic to expand the footprint a bit more. I'll putty along the edge of the acrylic to blend everything together and strengthen things further.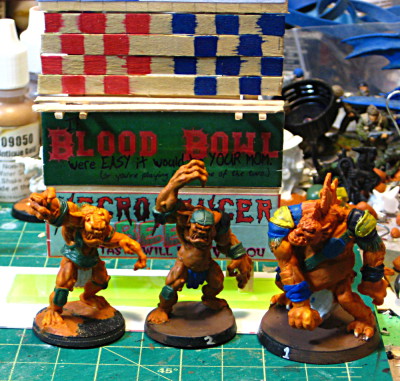 The second image has all three of my trolls, all still very much works in progress. Left and centre troll are the same figure, with some fairly extensive arm surgery on the left hand troll to give him a different pose than the stock centre troll. All three are Reaper Bones plastic figures, which are awesome for Blood Bowl conversions! You can see the narrow walkway in front of the score panels nicely in this shot, which might get a gobbo scorekeeper perched on it eventually.
More soon; I'm currently out of rare earth magnets and need to restock before I can finish this project the way I'm planning it. That should take place this weekend and then it'll be fairly simple to finish the rest of the thing!