Greenstuff all over the place this time!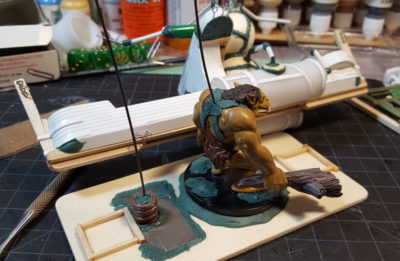 I've started on the heavy leather harness that the troll uses to tow the Blomp along, as well as structural greenstuff to secure and cover the magnets in his base, hold the barrel in the right position, and secure the steel plate the barrel magnetizes to.
There's at least one more round of greenstuff here, the front and belt parts of the troll's harness don't exist yet, and the base needs some more patching up.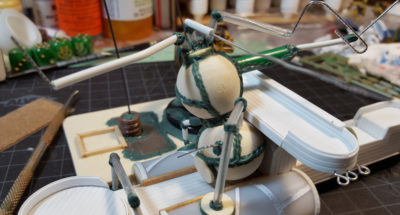 Up on the gondola the various joints in the pipes have greenstuff seals added. I'll be painting them up as leather, which has historically been used as a seal and still is to this day in some applications. I also smoothed out a few parts of the hull, and on the first photo above you can see the putty filling in the underside of the bridge wings to secure the three eye-bolts on each end.
The eye-bolts are jewelry making supplies, intended to be posts on earrings or something. I have a little baggie of dozens of them, and I think they'll come in handy for all sorts of things – parts of railings, for example. It pays to cruise slowly down the random aisles of your local craft store, the jewelry and bead aisles are full of all sorts of interesting things!
The greenstuff work on the gondola means it's finally ready for priming and painting. I didn't get a photo but the fabric patchwork is also finished on the balloon, so painting will start on that this weekend. I also need to get stuck into the (mostly minor) conversions to the half dozen Reaper Bones goblins who will serve as crew!
The Feb 18th deadline looms like an irritated troll with a big club!