Blomping onward, in a classic goblin-engineering "make sh*t up as you go" fashion!
The front half of the gondola has been skinned with styrene sheet, cut in one continuous strip for strength. I also glued in more styrene strip on the inner edges of the gunwale. The edges of the flying bridge received similar treatment; both areas will be getting more detailing/decoration to finish them off.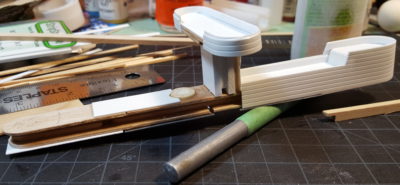 On the underside of the gondola I superglued a pair of 40mm X 20mm galvanized steel bases, and some scrap styrene to keep everything level. The keel went on next, long strips of 1/8th x 1/4th inch basswood. The metal bases and the slot in the keel will hold another piece of the same basswood with two or three rare earth magnets embedded in it to hold it into place, and a long steel wire (possibly two) leading down to the ground as the "flying" part of the Blomp's flying base.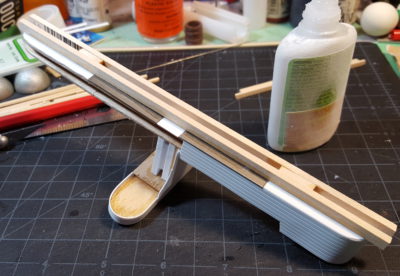 Finally I cut sections out of two plastic tubes (till receipt paper rolls salvaged from the recycling bin at a previous job!) and glued them just behind the flying bridge as part of the lift/propulsion machinery – tanks of whatever mysterious, hazardous lifting gas the goblin alchemists have invented, probably! The end caps are wood craft circles trimmed slightly to fit, and the tanks will get detailed with rivets, weld lines, pipes, and such in due course.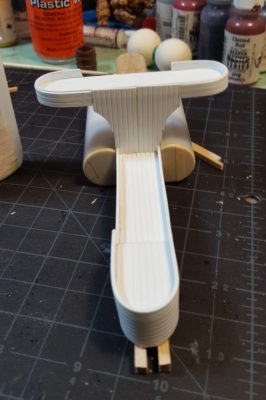 More soon as we progress! The February 18th end date looms like a looming thing!